MORE than 1,000 'forgotten' stillborn babies and children - buried in a mass grave without any form of tribute - have finally had their lives remembered thanks to a tireless campaign to create a memorial.
The shocking scale of the number of children buried in the public grave at Penistone-Stottercliffe Cemetery was revealed last year by local man Richard Galliford, prompting local councillors to set up a fundraiser.
Donations flooded in and more than £7,000 was generated within weeks, paving the way for a granite memorial - which features an inscription - to be unveiled on Tuesday.
The babies and children were laid to rest at the Saunderson Road site from approximately 1880 - a time when baby burial legislation and rituals were largely different, often due to financial reasons, with not a single gravestone to mark their existence.
Richard found out he had a sister buried at the site, who was stillborn in 1949, which led him to post about the overgrown area of the cemetery on Facebook.
He only found out about his sister in 1986, when his father pointed out the site.
Richard said: "We have at last managed to bring justice to over 1,000 babies and children buried in the cemetery.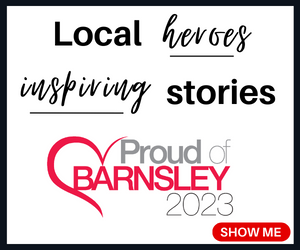 "The memorial is dedicated to all of them, and to show that they are no longer forgotten - our community recognise their existence.
"The story of my stillborn sister, told to me by my father in 1985, 46 years after the birth, would be familiar to many other parents who had to deal with their enormous loss and the added shame of not having a proper burial, a chance to say goodbye, and not knowing where their child was buried.
"I was contacted by Peter Shields, a man who has devoted a great deal of his life to finding lost babies and children, after going through a similar experience himself as a parent.
"He let it be known that there may be many more babies and children lying there - never did I think that this number we now know would be so many.
"We hope people visiting the memorial will be happy with what they see, and will find it a place of thought, a place of reflection.
"We now have a full list of unmarked babies and children buried there, and with records now in Penistone's archive system.
Coun Hannah Kitching, who represents the Penistone West ward, attended the unveil and praised the community's response to the fundraiser.
"We think that we will have spent everything we raised, but if there is any money left over we will be donating it on to SANDS, a charity which supports families who have lost a baby to still birth or neonatal death.
"It wasn't until the mid-1980s that parents of stillborn babies were consulted about funeral arrangements for their children - before then those babies were simply wrapped up and bundled away, with parents told to forget about them.
"Before that time, babies tragically born sleeping were not required to be properly registered and were simply taken away from their grieving parents, who often weren't told where they had been laid to rest.
"Richard always thanks everyone else but it is only right that he too gets the thanks he deserves."