A FORMER Barnsley school teacher had his second book published this month.
Ronnie Steele has released his new book, A Blue Plaque for Brian Glover, which contains 26 stories about growing up in the town as well as five short stories about his former teacher.
The plaque, which commemorates one of Barnsley's most famous sons, was unveiled in the town centre in September.
Brian, who taught at Barnsley Grammar School and Longcar Central School before shooting to fame as PE teacher Mr Sugden in Kes in 1969, died 25 years ago.
To mark the anniversary, ex-pupil Ronnie embarked on a 'lifelong dream' to create a permanent tribute - and the plaque was fitted on Chennells Bar, on Wellington Street.
Mayor of Barnsley Sarah Tattersall, Kes director Ken Loach and actor Dai Bradley were among those to read speeches paying tribute to Brian's impact on the town.
Ronnie said of the book's publishing: "I've spent 54 years working out a way of thanking Brian Glover for being a wonderful teacher and this book is the result.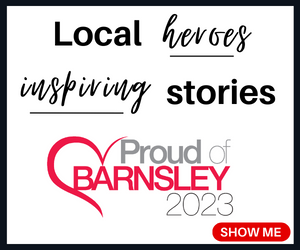 "Brian had a huge influence on my life and that of thousands of other young people when he taught at Longcar Central and Racecommon Road Secondary Modern School.
"His enthusiasm for literature, history and sport was infectious but what made him really stand out was that he gave respect to everybody, no matter what their background.
"The book also contains hilarious tales about the highs and lows of gambling, while still a pupil at infant school - and the time when, as nine year olds, the entire choir got slightly tipsy at the church wine and cheese party."
The book is available at Paul Wilkinson Hair Fashions, The Book Vault and Mike's Famous Book Stall, Barnsley Market.