ALMOST 30 people are diagnosed with cancer every week in Barnsley - prompting a local charity to encourage residents to support a campaign which will 'help save lives' across the borough.
Recent statistics from Yorkshire Cancer Research shows that 29 people in Barnsley are diagnosed with cancer each week, contributing to the 600 people who are diagnosed with the disease across Yorkshire weekly.
And while more people than ever before are surviving cancer and going on to live long and healthy lives, 14 families in Barnsley still lose a loved one to cancer every week.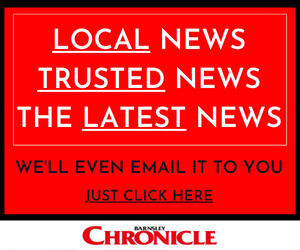 The Yorkshire Stars campaign from Yorkshire Cancer Research gives people the chance to dedicate a star to anyone affected by cancer or to someone who has been a part of their cancer experience, whether that be a nurse, a researcher, or a supportive friend.
Funds raised during the campaign will contribute to the ground breaking research taking place in Yorkshire by specialist cancer clinicians and professors across the region across the region.
Dr Kathryn Scott, chief executive at Yorkshire Cancer Research, told the Chronicle: "This campaign gives people the opportunity to celebrate someone who has recovered from cancer, thank those who have shown their support, recognise someone going through treatment, or remember a loved one who is sadly no longer with us.
"It's an opportunity to recognise them at what is traditionally a reflective and celebratory time of year.
"This research is possible thanks to the funding generated by supporters across Yorkshire through campaigns just like this one, which will help save lives in Barnsley."
The number of people living in Barnsley who survived the first year after their cancer diagnosis is on the rise.
Figures released by NHS Digital show that in 2019 - the most recent year for which figures are available - the index of cancer survival within one year of diagnosis was at 73.5 per cent for those registered under Barnsley CCG.
This is compared with 72.8 per cent the year before, and the figure has risen by almost five per cent in the past ten years.
The figure for Barnsley is made up of statistics from those diagnosed with cancer aged between 15 and 99 years old.
Cancer survival rates in the area have been rising year on year for at least the last 18 years, the figures show.
In Barnsley, 50.1 per cent of all cancer diagnoses in 2019 were classified as stage one or two, down from 54.4 per cent over the same time period.
Jeremy Hunt, chairman of the government's health and social care committee, which recently published a report on cancer services nationally, warned early cancer diagnosis is being jeopardised by staff shortages and the 'damaging and prolonged impact' of the coronavirus pandemic.
He said the NHS is not on track to meet the government's early cancer diagnosis target and that more than 340,000 people will miss out on an early diagnosis between 2019 and 2028 without fixing key issues.