Analysis of Barnsley's 4-0 win at Cheltenham Town.
HAPPY HOMECOMING FOR DUFF
THIS dominant win encapsulated not only why Michael Duff left Cheltenham for Barnsley last summer but also why the Reds made him their number one choice for head coach.
Duff is a Robins legend after 12 years as player then manager, he still lives in the area - commuting twice a week to Oakwell - while his son is in the Robins' academy. He and former Robins team-mate Martin Devaney, the Reds' first team coach, will have enjoyed their return to Whaddon Road, where they are legends, for the nostalgic reunion with old friends but also for their team's emphatic win.
Duff clearly felt he had taken Cheltenham as far as he possibly could before moving to a club with a higher ceiling last summer.
Cheltenham have the second lowest budget in the division, and just broke their transfer record with a reported £75,000 deal for Aiden Keena – Barnsley have paid almost ten times that for some of their players.
None of starting Cheltenham's outfielders had started a game above League One level.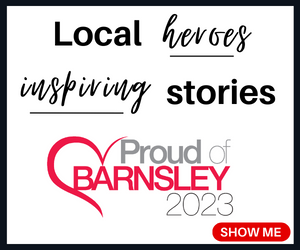 They had the joint worst goals record in the division and had not won at home in three months.
They are hovering above the relegation zone and, if they stay up, that will be major achievement.
As for Barnsley, they are still one of the big fish in the division despite being on a reduced diet due to finances.
Their aim is the top six which looked doubtful when Duff arrived but has become a major possibility due to the excellent work of him, his staff and players. This was a fifth win out of six games while it completed a week of three games, nine points, nine goals scored and one conceded. They have not moved up from sixth during that run but will if it continues.
BIGGEST WIN SINCE 2018
The Reds gained their biggest win since a series of 4-0 victories under Daniel Stendel at the start of the 2018/19 season – a promotion campaign that, watching this one-sided contest, it was easy to imagine the Reds replicating this season.
To do so they will have to safely negotiate a series of tough games against fellow challengers in the next five weeks but this narrative-laden encounter in Gloucestershire was their immediate task and they dealt with it very well.
Barnsley surged into a commanding position with some excellent goals while the hosts had no chances of note until the final minutes and were second to most of the loose balls against their fired-up visitors who were in total control.
It was the second time in a month the Reds were 3-0 up at half-time but, after conceding late on against Accrington at home, this time it was they who got the second half goal.
While both Duff and scorer Herbie Kane said Barnsley were not at their best, the margin of victory and nature of the goals mark it out as a wonderful win.
HIGH-QUALITY TEAM GOALS AND INDIVIDUAL STRIKES
Barnsley can rarely, if ever, have scored three goals of the same quality in one half as James Norwood's finishing off of an excellent team move then the long-range stunners by Herbie Kane and Adam Phillips. Jordan Williams completed another good move in the second half.
The Reds can score all types of goals – also netting regularly from set pieces as well as more direct play – which is a valuable trait for the promotion run-in.
Bristol boy Kane made a triumphant return to his homeland in the south west, playing the key pass for the opening goal and netting a superb second, then getting a fifth assist of the season for the last goal.
He is among the better technical midfielders in the divisions and, after finally getting a chance to play regularly, is now performing consistently well.
Kane must have thought his excellent volley into the top left corner would be the goal of the day but it was given good competition when Phillips' 25-yard free-kick found the same part of the goal.
Phillips – who came into the side for Jon Russell – has seven goals in all competitions from midfield this season and is a huge threat both from long-range as well as bursts into the box. He also seems to be adding more steel and positional nouse to his game after working with Duff in training for almost six months. Duff said being dropped in midweek was a 'livener' for Phillips, who also cleverly assisted the opener.
Luca Connell, who was impressive again, completes a midfield three which is surely one of the best in the division – although that theory will be tested in the coming weeks.
BEST AWAY RECORD IN DIVISION
Barnsley's win meant they have the best away record in League One with 28 points from 14 games.
They are on course for one of their best away seasons in their history, having won 11 times on their travels in all competitions. Half of their 56 points have come on the road so far this season.
They have been backed by large numbers of fans all season and more than 1,000 travelled to Cheltenham – rewarded by a real show.
The fans sang 'Beth Sefton, she's one of our own' about the popular club employee who was seriously ill in hospital, with Duff dedicating the win to her.
GOALS SHARED AROUND THE TEAM
It has been fairly obvious all season that the Reds would not have one or two leading scorers who net 15 to 20 goals.
Instead they were always likely to need a handful of players hitting roughly ten each – and that is what they seem on course for.
Norwood joined fellow striker Devante Cole on seven league goals, while the pairing once again set the tone with hard-working performances and good pressing.
Other Barnsley strikers to net at Cheltenham are Bruce Dyer – in the only other league meeting 20 years ago to the day – and Sam Winnall in a 2016 friendly.
It seems unlikely that Norwood will join those two as one the most prolific scorers of the 21st century, but he is doing a good job for the team at the moment and coming into form at a crucial time.
Phillips moved onto five league goals for the season, as did Williams which is very impressive for a right wing-back as is the fact that he is the top-scorer in 2023.
With new strikers arriving in the January window or returning from injury, and the likes of Kane and Connell scoring from distance, as well as set piece threats from Bobby Thomas and Liam Kitching, Barnsley now provide danger all over the pitch.
STRENGTH IN DEPTH
Barnsley have a much-changed squad from the one that took on the Robins in August, which included Callum Styles, Aiden Marsh and Will Hondermarck.
Although still hindered by injuries, they have competition in every position after some January signings.
The much-heralded new arrival Russell being an unused substitute is a good indicator of their strength in depth.
Duff said that Williams' fine recent form may have been caused by the arrival of Barry Cotter who provides competition on the right, as well as the chance for Williams to have an occasional rest.
On the other wing, Nicky Cadden missed the game after his partner went into labour, with Ziyad Larkeche replacing him at left wing-back and making his second league start of the season. The Frenchman played well, winning the free-kick Phillips scored from and was unlucky not to get an assist for substitute Slobodan Tedic who headed wide from close range.
Luke Thomas returned from a four-month absence due to a broken leg to make the bench against his former club the day before his 24th birthday.
He was cheered on loudly by the away end and embarked on some of his trademark driving runs.