MARCH could be the month in which the excitement levels building nicely in the Barnsley fanbase near the maximum if they continue their excellent form in a series of huge encounters.
The Reds had a phenomenal February – winning five games and drawing at Portsmouth where they had a goal wrongly ruled out – while their 16 goals across the last six games is the best in English professional football including 11 in the last three.
Michael Duff must be a serious contender for a third Manager of the Month award this season while his 'win the next half' mantra is working wonderfully as Barnsley have won eight consecutive halves for the first time in their history.
It is hard to overstate how good a job he is doing – and the same is true for his players.
Whenever Barnsley have had this many wins at this stage of a season, they have been promoted or reached a play-off final.
It was difficult to watch their demolition of Derby on Saturday and not think they have a strong claim to being the best team in the division currently, possibly alongside first-placed neighbours Sheffield Wednesday.
Their recent form leaves them sixth in the table, six points clear of the sides outside the play-off places, and nine behind second-placed Plymouth Argyle who have played two extra games and are due to visit Oakwell a week tomorrow.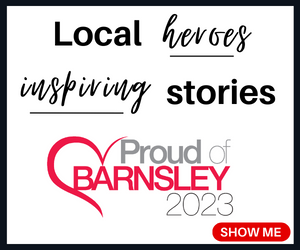 The Reds have at least two games in hand on the four sides directly above them.
Automatic promotion is no longer the distant daydream it seemed for much of the season, but still a tall order and it would require this marvellous form to continue throughout a gruelling March.
Four of their next six games are at home, with the atmosphere and crowds growing significantly at Oakwell, while their away form is tremendous. They must stay focused and consistent for this week's games against two mid-table sides before a series of meetings with their promotion rivals which may define the season.
There are some potential pitfalls coming up. Key men James Norwood and Herbie Kane are both on eight yellow cards this season so, if they collect another two in the six games up to and including the 37th match against Ipswich, they will be banned for two fixtures.
Luca Connell may miss that match if called up for Republic of Ireland under 21s who have a friendly that weekend.
But the Reds have overcome many obstacles already this term and now have a far stronger squad to deal with absences.
Here is a look at the seven games coming up this month:
BRISTOL ROVERS, A, tomorrow
Barnsley's tallies of away wins and points, their defensive record on the road and away goal difference are on course to be among the best in their history if they continue as they are for the rest of the season.
Their next trip is a return to the scene of one of their most memorable moments in recent years.
The 2018/19 team and fans celebrated at the Memorial Ground having earned promotion to the Championship, despite a 2-1 loss on the final day.
Nothing so final will be decided in this match but another away victory would keep them on course to repeat the achievements of four years ago.
Joey Barton's Rovers had been one of the worst form teams in the division and were slipping towards the relegation zone but won 3-0 at Oxford United this week.
The Reds will be clear favourites but must show the same attitude and mentality that helped to obliterate Derby a week earlier.
PORTSMOUTH, H, Tuesday
If this game had gone ahead when orginally scheduled on September 10, Barnsley would have hosted a Pompey team who were unbeaten and on a six-game winning run which took them to top of the league.
But it was postponed due to the death of Queen Elizabeth II and now Portsmouth return having won just six of their last 26 league games but two of those victories were this week. It will be a smaller crowd than the Derby game but the Reds will hope for a similar backing from the home faithful.
Tuesday's game has been included in a list of tough March fixtures against promotion rivals but Pompey are marooned in mid-table and, although the visitors will be dangerous, the Reds should be favourites for what is a game in hand on many of the teams around them.
Barnsley will hope for better luck than when they drew 1-1 a month earlier at Fratton Park with Devante Cole's goal being disallowed as the referee had blown for advantage to the visitors.
PLYMOUTH ARGYLE, H, March 11
If Barnsley have a good week, they could be within catching distance of Plymouth who host Charlton and Derby before visiting Oakwell.
The Devon club were 17 points clear of the Reds in November but now it is nine and Barnsley have two games in hand.
Argyle have had an outstanding season and put themselves in a very strong position to claim automatic promotion.
But since January 1, they have collected 12 points from eight games. They have the best home record in the division but have only won two of their last ten away league games, losing 5-2 at Peterborough this week.
They have won just two of their last 19 games at Oakwell but have taken four points from their last two.
This is a chance to show how far the Reds have come since the opening day in July when they were far inferior despite only losing 1-0 in Devon.
This game kicks off an especially fiendish fortnight in a difficult month as the Reds host the teams who have been the top three for most of the season and visit the main chasers of the top six in Wycombe.
WYCOMBE WANDERERS, A, MARCH 18
Gareth Ainsworth left Wycombe last week after more than a decade in charge to return to former club Queens Park Rangers in the Championship.
Using a direct but effective style, he turned them from battling relegation to non-league football into one of the strongest teams in League One, spending a season in the Championship.
They won his last five games, including against top six sides Bolton and Derby, so were nipping at the heels of the Reds in seventh. Chairboys legend Matt Bloomfield left Colchester to take over and lost his first game at another of the chasing pack Shrewsbury.
Barnsley will look for revenge after being humbled 3-0 at home in August while this game will be two years to the day since they won 3-1 at Adams Park to go fifth in the Championship. It could be a crucial fixture for maintaining the gap between them and the sides outside the play-off places. Josh Scowen is a regular for Wycombe but his former Reds promotion colleague Alfie Mawson recently retired.
SHEFFIELD WEDNESDAY, H, MARCH 21
A home derby with the Owls will always be a huge fixture for the Reds but, when you add in that both are in contention for promotion, it becomes a mouth-watering prospect.
This match could challenge this week's Derby game for the biggest attendance of the season at Oakwell and be one of the largest in years.
Barnsley will hope to be breathing down the necks of high-flying Wednesday when they host them under the lights at Oakwell with the game having been rearranged due to the visitors' FA Cup run.
But the table-topping Owls – managed by former Barnsley defender Darren Moore – are the clear title favourites. They have only lost three league games this season while they have the best defensive record and the most away points. They are unbeaten in 18.
The Reds were superb in a 2-0 win at Hillsborough in September and will now look for their first home win in this derby in seven attempts since 2008.
IPSWICH TOWN, H, March 25
The Tractor Boys were 15 points clear of the Reds in late October and still 11 ahead midway through January. But the gap is now four points and Barnsley have two games in hand. Third-placed Ipswich lost ground on the top two during a run of one win in eight but a series of games against relegation-battlers has arrested the slump.
Only Wednesday have lost fewer games this season but their 12 draws have cost them. They are the division's top-scorers while only Burnley and Manchester City have more goals in English professional football.
Ipswich gained a first away win in seven attempts since November at MK Dons and now visit Bolton before arriving at Oakwell where they are unbeaten in six. Ex-Red Conor Chaplin is one of the top-scorers in the division with 14 while Barnsley duo Barry Cotter and Luke Thomas had difficult spells with Ipswich.
James Norwood will likely be keen to net against the club that released him last summer.
EXETER CITY, A MARCH 28
One of the most frustrating days of a generally enjoyable season for the Reds was in January when their match at Exeter was called off with three hours notice.
Hundreds of fans had already arrived in Devon and many may not be able to take another day off work or book hotels and travel to go down again in midweek.
The Grecians have accepted they handled the situation badly – with very little communication despite clearly freezing weather – and Barnsley have written to the FA and EFL pushing for a change in the rules to stop games being called off so late.
That may provide some more motivation in the final game of a gruelling month.
Mid-table Exeter gained their first home league win since November with a 2-0 victory over lowly Cambridge on Saturday.
Barnsley will then move into April which, in theory, should be easier as they mainly face sides in the bottom half of the table.
Remaining fixtures: April 1, Morecambe, H; April 7, Burton A; April 10, Shrewsbury, H; April 15, Forest Green Rovers, A; April 18, Lincoln City, A; April 22, Oxford United, H; April 29, MK Dons, A; May 7, Peterborough United, H.