A FOODBANK which has fed more than 1,000 people since it launched in October has been nominated for a Proud of Barnsley award.
Penistone Food Buddies organisers Julie Rhodes and Mark Attard played a big part in Penistone's efforts to support the United for Ukraine appeal - set up by Pogmoor man Henryk Matsiak - to help Ukrainians affected by the Russian invasion.
And when that appeal was stepped down, the pair decided to switch their focus closer to home.
With the cost-of-living crisis and soaring energy costs, Julie and Mark wanted to support struggling families in their area.
And what started as a plan to offer a helping hand with 'grab a bag' food parcels every Friday from St John's Church, on Shrewsbury Road has virtually become a full-time job.
"We made the decision to switch from tinned goods to fresh as it's a similar price and we can offer more variety," said Julie.
"I do price checks during the week to see where things are cheapest and Mark and I go shopping on a Thursday.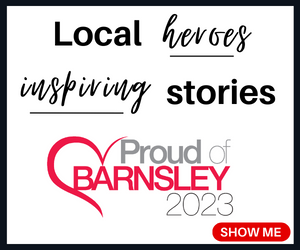 "We usually end up going to more than one supermarket to get the best prices and are buying 35 packs of chicken or mince or some other kind of meat depending on that week's meal plan and also fresh vegetables.
"We then need to get it all home and have enough fridge space for it all.
"It has grown a lot bigger than we thought and what we saw as a Friday thing has turned into a full-time job."
Unlike many similar projects, there is no referral scheme people just need to go in to register with photo ID and proof of address that they live in Penistone East or West wards.
Julie said: "If you're struggling to put food on the table then you're more than welcome to come down.
"Whether you're homeless - God forbid - or living in a four-bedroom detached house, this is for you."
Since launching in October, Penistone Food Buddies have fed 1,045 people.
"We have a great team of volunteers who pick and pack the bags and we usually provide bags for around 33 families every week."
The project has been nominated in the Love Where You Live category of the awards.
'I'm overwhelmed it's really lovely to be nominated but we really just facilitate our community's kindness - without our volunteers and the donations it just wouldn't happen," said Julie.
Julie and Mark are based at the church each Friday from 12pm until 3pm.