Analysis of Barnsley's 5-1 win at Forest Green Rovers. Adam Phillips scored twice with Slobodan Tedic, James Norwood and Devante Cole also on target.
BARNSLEY INTO THE 80S
Barnsley moved into 81 points with this simple victory in a one-sided match at a team they relegated.
That is the sort of points total it was always thought they needed this season to compete for the top six which seemed a very tough assignment at the start of the campaign with so much upheaval after an horrific relegation.
To get there with five games remaining - and be all-but secured in the top six - is a tremendous effort, as is racking up 25 league victories.
When the Reds hosted Forest Green in October, they had been without a win or goal in four matches and were ninth. But they changed formation to 3-5-2 and gained a comfortable 2-0 victory, starting a period of more than half a season in which they have been the form team in League One.
In Michael Duff's 50th match in charge, they made sure he became the quickest Reds boss ever to reach 30 wins in all competitions.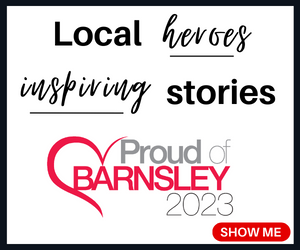 Sheffield Wednesday's loss at Burton Albion - with a goal by John Brayford who would have been suspended had his handball on the line against Barnsley been spotted last week - was an added bonus and helped the Reds shave a point off the gap to the top two which is now four
FIRST LEAGUE PENALTY IN 399 DAYS
Barnsley were given their first league penalty in 399 days since Carlton Morris won and scored a spot-kick in a 1-1 draw with Fulham at Oakwell in March last year.
Since then they have waited 50 league matches for a penalty, enduring some terrible decisions such as the blatant handball at Burton. This country has had three Prime Ministers and two monarchs in that time.
Adam Phillips grabbed the ball and - perhaps unsurprisingly given such a long and publicised wait - missed the spot-kick, but was lucky the rebound came straight back to him to score.
That meant they have missed three of four penalties this season in all competitions.
Callum Styles missed at Leeds in the EFL Cup and Tedic at Doncaster in the EFL Trophy.
Josh Benson is the only Red to net from the spot this season - against Crewe in the FA Cup - but he is not a regular starter.
Duff admitted they had not 'bothered' deciding who would take the next penalty as it has been so long since they had been given one.
CONNELL SET PIECES DESTROY HOST
Barnsley have been better in general play than this performance in many games this season.
They did not need to operate with their usual intensity against very poor opponents but were sloppy with their passing in the first half - under-hitting a succession of attempted crossfield balls.
But it did not matter because they absolutely terrorised their hosts from set pieces in the first half.
The hosts could have done with the aerial prowess of their manager Duncan Ferguson who must have been exasperated on the sidelines.
Luca Connell moved on to eight league assists this season - the most of any Red - with two fine right-wing corners headed home by Tedic then Norwood.
His left-wing free-kick also led to Phillips' second goal.
Another Connell corner was headed by Bobby Thomas and cleared off the line by Udoka Godwin-Malife.
Duff said he picked the biggest team possible because he knew the hosts would sit deep and be difficult to break down in general play.
It included giving Slobodan Tedic his second league start - the first being at Shrewsbury in November - in place of top-scorer Devante Cole, in a move that would be seen as complacency had it not worked. But it paid off with Tedic beginning the rout in the eighth minute.
THREE PLAYERS IN DOUBLE FIGURES FOR GOALS
Adam Phillips and James Norwood joined Devante Cole in double figures for goals this season.
It is the first time three Barnsley players have scored at least ten in all competitions in season since 2005/06 when Chris Shuker, Paul Hayes and Marc Richards did so.
Phillips netted twice to move onto 11 in all competitions, with nine in the league - a very impressive tally from midfield.
There was an element of fortune to both his goals, with the second the penalty rebound.
The first was a typical 'Phillips screwdriver' powerful strike from outside the box but, unlike his catalogue of Goal of the Season contenders, this one needed a fortunate deflection to find the net.
He was joined in double figures minutes later by Norwood, who had continued to swap in and out of the side with Max Watters who dropped to the bench.
At Oakwell in October, the smattering of Forest Green fans in the away end booed and chanted against Norwood, their former player who celebrated wildly against them after scoring for Tranmere in the National League play-offs. He tweeted: "Thanks to the 13 of you making the trip and for the three points' which Duff said was unnecessary .
This time he did his talking on the pitch, netting the third goal - but could not resist putting his fingers to his ears and staring at the fans behind the goal. Norwood was one of only two starters aged above 25, with the other being home captain Dylan McGeouch who conceded the penalty.
After the Reds went 4-0 up, and made the now-traditional quadruple change, the game drifted without much action apart from a fine home goal.
But Barnsley added some gloss to the win with Cole's 16th goal of the season. It was the sixth time in eight games that the Reds had netted after 85 minutes.
It was also Cole's third away goal of the season and first in 17 on the road since netting at Sheffield Wednesday and Cambridge in September
BIGGEST AWAY IN MORE THAN A DECADE
Barnsley's first trip to Forest Green was also the first time the Reds scored five goals in an away game since the 5-0 win at Birmingham in 2012.
Duff said afterwards there was a 'tinge of disappointment' that they did not win by more.
Forest Green knew they would be relegated if they did not win but defeat looked likely from the opening minutes and certain when they were 3-0 down at half-time.
The Gloucestershire club's demotion was confirmed, after their first ever third tier season.
They went into the game bottom of the league by nine points with 26, one third Barnsley's total of 78. No side in the EFL had won fewer games, lost more, scored fewer or conceded more.
But they did stun another South Yorkshire promotion-chaser three weeks earlier with a 1-0 win over Sheffield Wednesday – their only victory in 17. They then lost the next three without scoring.
They were ideal opponents for Barnsley after back-to-back away losses and the visitors produced their best performance on the road since a 4-0 success at nearby Cheltenham two months earlier, after which they took just four points from four away games. This was a tenth away win of the league campaign.
There were solid performances throughout for Barnsley, with Bobby Thomas catching the eye with some fine runs out of defence including to set up both second half goals. Ziyad Larkeche made his third league start, replacing the suspended Nicky Cadden at left wing-back, and put in a good shift despite the lack of match fitness and his fast for Ramadan. He made the most clearances and interceptions before coming off with cramp.