HEROIC Barnsley police officers who disarmed a crossbow-wielding man as town centre revellers watched on in terror have been commended by force bosses for their bravery.
PCs Adam Craven, Austin Ainsworth, James Thornton, Anthony Cole, Alex Furniss, Amy Needham, Temporary Sergeant Michael Beet and Sergeant Alun Oliver de-escalated the incident in May 2021.
PC Cole was on duty with former PC Jones - who has since left the service - when he saw a man pointing a loaded crossbow at them in the town centre.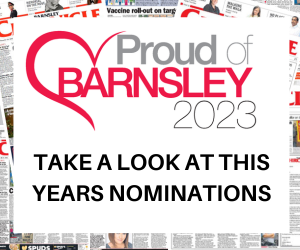 The offender dropped the crossbow but picked it up again as the officers went for it, so they took cover while PC Jones called for urgent assistance.
The rest of the team arrived to help their colleagues, made a shield barrier and forced the offender out of the town centre.
He finally put down the crossbow but climbed over the barrier of a bridge on Westway, where Sgt Oliver negotiated him to safety before he was arrested.
PC Cole - who was instrumental in bringing the case before the Crown Prosecution Service - also intercepted and recovered another crossbow and ammunition that the offender had ordered online after the original incident.
The offender was handed a 12-month sentence, suspended for 24 months, for having an offensive weapon in a public place, and a 16-month sentence, suspended for 24 months, for affray.
He was also given a criminal behavioural order with prohibitions on owning or buying a crossbow for three years.
PC Ainsworth said: "Crossbows are as powerful as a gun - our instincts kicked in as you want to help your colleagues and you don't really think about your own safety, it happens so fast.
"So we got out of the van and I started trying to get the shields out but we were told afterwards that if he'd fired it, it would have gone straight through the riot shield."
Sgt Oliver added: "I'm a trained negotiator, so I switched roles then, from public order sergeant into the negotiator role.
"I talked him off the side of the bridge, we got him back over the fence, and then detained him under the Mental Health Act.
"It was a very young shift so we'd got a lot of very inexperienced officers.
"Looking at their faces, there was a lot of relief that they'd been successful, everybody was safe, and that we'd got the weapon back and got the subject.
"I'm humbled to receive this award.
"A lot of people do a lot of good things, on a daily basis, but we're paid to run towards the threat and that's what we did."
The team attended the South Yorkshire Police Federation Bravery Awards last night, and will travel to London for the National Police Federation Bravery Awards in July.
Chair Steve Kent said: "You never know what you are going to experience when you turn up on duty.
"That night could have been very different, had it not been for these officers' quick thinking and courage.
"The thought of the injuries that could have happened or human lives that could have been lost had shots been fired is quite frightening, so all these officers should be exceptionally proud of their bravery and excellent work."