Analysis from Barnsley's play-off final loss to Sheffield Wednesday. The Owls scored in the 123rd minute after the Reds had Adam Phillips sent off just after half-time in normal time.
THE CRUELLEST WAY TO LOSE
IT IS difficult to think of a crueller way to lose a football match than the manner in which Barnsley missed out on promotion at Wembley against their bitter local rivals in the League One play-off final.
After being denied a clear penalty then having a man controversially sent off, the Reds performed heroically with ten men for more than 70 minutes before conceding with ten seconds left before a penalty shoot-out.
In slight consolation for the devastated Reds, it is almost as tough to think of any way in which the players, staff and fans could have done more on the day.
Yes, Adam Phillips didn't need to go in as hard as he did for the red card tackle, Luca Connell's trusty left foot let him down with a golden chance in extra-time, and the marking for Josh Windass' winner was poor.
But, over more than two hours of football against better-paid and far more experienced opponents, Barnsley did themselves and their fans proud.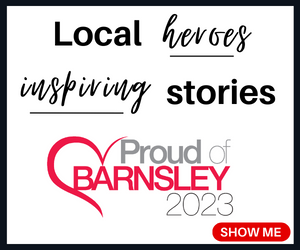 They were the better team in 90 minutes then defended sublimely in extra-time as Wednesday inevitably got on top.
Fears that this young Reds side would freeze in such a big game proved unfounded. They dealt with Wednesday's direct approach, designed to avoid Barnsley's press which rattled them in the two league defeats this season, and looked the fitter team towards the end despite playing with one man fewer.
It was a unique occasion to play a South Yorkshire derby in a Wembley final, with some villages surely missing thousands of residents for the day.
The bragging rights will go to the Owls, along with a place in the Championship, but at least the Reds can take pride in their team's performance.
TWO HUGE REFEREEING CALLS GO AGAINST REDS
Two minutes into the second half, Wednesday striker Lee Gregory - defending in his own box - appeared to totally miss the ball and kicked Liam Kitching in the shin.
Referee Tim Robinson - the last to give Barnsley a league penalty which they scored in March last year - did not give the spot-kick this time.
More inexplicably, nor did the Video Assistant Referee Tony Harrington despite seeing several slow-motion replays which showed it was a clear and obvious foul.
Duff welcomed the introduction of VAR for this game as he hoped it would eradicate refereeing errors. Sadly it did not.
Barnsley have felt aggrieved by the lack of penalties all season, often rightly so, and were only given one in the league. The officials saved the worst until last with this mystifying decision.
Had it been given, and scored, it is highly that Adam Phillips would not have lunged into a challenge on Gregory minutes later and been sent off.
It was also a controversial decision, as it certainly wasn't the sort of studs-up, dangerous challenge which usually results in a dismissal.
But he was out of control and did not need to take such a risk near the halfway line on the wing.
Wednesday boss Darren Moore said the red card 'caught us all by surprise'.
Robinson also sent off both Mads Andersen and Michal Helik at Reading in 2020.
It was a disastrous start to the second half for the Reds but they showed remarkable resilience to stay in contention for almost two more hours.
Part of Barnsley's strategy was that, as the younger side, they would finish stronger but clearly that is much more difficult with ten men.
DUFF WILL 'PROBABLY NEVER WATCH' WINNER
"It's the last kick of the game. It is what it is. I haven't watched it back and I probably never will."
That was Michael Duff's post-match assessment of the winning goal, headed home by Josh Windass from a Gregory cross in the 123rd minute.
Both the Championship and League Two finals earlier in the weekend went to penalty shoot-outs and this looked almost certain to make it a hat-trick.
But all of the exhausted Reds defenders were deep in their penalty area whereas Windass cleverly hung back on the edge of the area and was not picked up by anyone.
Earlier in the three added minutes at the end of extra-time, Barnsley had been about to bring on defender Robbie Cundy for striker James Norwood who was clearly suffering with cramp. But they changed their mind at the last second when Norwood seemed to recover, clearly hoping he would be ready to take a penalty in the shoot-out.
We will never know if having an extra defender in the box in Cundy, with a fresh mind and fresh legs, would have prevented the goal.
The game did re-start but for only about two seconds before the final whistle blew.
BIG PERFORMANCES AT THE BACK
Barnsley players produced some tremendous individual performances.
Harry Isted made a series of stupendous saves in goal while Mads Andersen was a colossus in the middle of the back three, with Bobby Thomas and Liam Kitching also impressing. Along with wing-backs Jordan Williams and Nicky Cadden, the back six put in a herculean effort with some fantastic blocks, tackles and clearances.
It could be the last Barnsley game for some of those players, as Andersen and Williams have one year left on their contracts – with the club's strategy to make money on players – Bobby Thomas' buy clause was conditional on promotion and Isted is also a loanee.
In midfield, Luca Connell won the ball regularly in good areas in the first half but faded as the game went on and missed the big chance with ten men.
Herbie Kane worked very hard without having a major influence as did Devante Cole up front along with substitutes Luke Thomas and Jon Russell, with the latter replacing replacement Josh Benson who lasted 18 minutes before sustaining an injury.
James Norwood, who came on at half-time for Slobodan Tedic, was a real nuisance for the Wednesday defence.
BRILLIANT BACKING FROM BARNSLEY FANS
A total of just under 23,000 Barnsley fans made the trip to Wembley for this game.
It was a noble effort given the cost of living crisis and the expenditure of travel and tickets at short notice, for a club with a smaller fanbase than Sheffield Wednesday.
The Owls brought roughly twice that number – having been given 6,000 of the Reds' original allocation – and the disparity was fairly stark before the game.
But, during the match, the Barnsley fans at least matched the noise generated by the Owls supporters and backed their team, especially after the red card.
There were many times when the Barnsley fans were much the louder.
The chants towards the end of normal time and during extra-time were some of the loudest and most spine-tingling this reporter has heard from a Barnsley crowd.
Those in Reds shirts on either side of the hoardings were outnumbered but certainly not outperformed and did not deserve to lose.
SUPERB PROGRESS IN A YEAR
The support on the terraces is more evidence that the progress over the last 12 months has been remarkable.
The Reds have gone from a shambolic outfit that collected 30 points and finished last in the Championship, to a well-drilled, effective machine under Duff with some excellent young players.
Very few were predicting promotion last summer, instead hoping simply for a season of stability.
A club record 32 wins, and nine in a row at home for the first time in a century, was the stuff of daydreams.
They were the best team in the league from October until April, collecting 54 points from 23 games, and briefly challenged for the top two. That challenge would have been far stronger hard they not made a slow start due to a chaotic post-relegation summer, some controversial refereeing decisions in key games and the fact that a record-breaking 98 points was needed for second place.
Off the pitch, the new board has healed some of the wounds opened by the previous chairmen while pumping millions of their own pounds in to offset the major shortfall from dropping into League One.
Now they begin another rebuild job, albeit not as onerous as a year ago.
Several players are likely to be sold in the summer, many of the loanees are unlikely to return, and there may be some interest in head coach Duff – although it is too early to tell how strong it is and if he will be tempted to leave.
Another big push will be required next year in another tough-looking third tier, as well as intelligent work in the transfer window which is just about to open.
But the Reds appear to have the potential to mount another big promotion challenge.