BARNSLEY man John Stones career has seen him win everything possible in English domestic football but it started on the training pitches of Penistone Church then Barnsley.
The 29-year-old defender from Thurlstone won the Champions League with Manchester City this week – completing the domestic treble, having excelled in a new midfield role.
Nicknamed the Barnsley Beckenbauer, he has won as many top league titles as the German legend with five Premier Leagues, the latest one secured last month.
He also has won the FA Cup twice – including last week against Manchester United – and the League Cup twice, while collecting 66 England caps and going to four major tournaments. He spent a decade in the Reds' academy before playing 28 first team games – netting once at Rochdale – then moving on to Everton and City, earning Barnsley about £10million in transfer fees and sell-ons.
His first coach was Mark Smith who worked with him from the age of five at Penistone Church. He also coached Stones in the Barnsley Boys teams when he was at Penistone Grammar.
Mark said: "John was a stand-out player but he wasn't always the best player at every gala we went to.
"But he had a very good attitude and he was disciplined.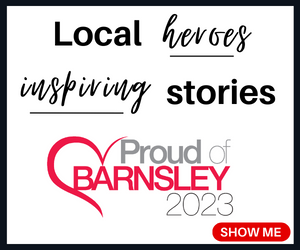 "We always used to get the lads do their own warm-up and most of them just had four touches and came back but John would do lots of different drills and work on his technique for a few minutes so everyone else had to wait for him.
"We used him as an example to all the others.
"He was always calm on the ball and was so comfortable with it, exactly like he is now.
"I remember one time he played against this much bigger striker who ran up behind him and was really trying to bully him.
"John said to him, shielding the ball and facing his own goal: 'you want this ball don't you? Well it's mine.' And he turned him easily and brought the ball out of defence with a smile on his face."
Ronnie Branson, who was the academy manager at Oakwell when Stones was coming through the Reds ranks, said: "At nine, John was quite tall and had very bright blonde hair so you couldn't miss him. He was full of energy and enthusiasm but, as time progressed, this elegant and cultured footballer developed.
"What you see now, with dropping into midfield and being so good on the ball, he could do things like that as an under 16 – obviously he wasn't as good as he is now.
"To think that a local lad from Barnsley can lift the Champions League trophy, it is the pinnacle of a fantastic career that seems to be constantly improving.
"He's such a down to earth kid. I keep in touch with him regularly. He never forgets where he's from and the people who encouraged him.
"I know he's very appreciative of the start he got at Barnsley and it's great for the town.
"Myself and Mark Burton were in charge of the academy but the education staff, sports scientists, medical team, and other coaches, all created the environment that John developed in."
Stones was in an under 18s side with fellow Barnsley lads Jordan Clark, who has just reached the Premier League with Luton, and Danny Rose who is now at Grimsby Town.
Rose said: "We had a really good group coming through and still keep in touch. He messaged me when I moved to Grimsby last week.
"Stonesy was the joker of the dressing room but one of the best trainers. When he came back for his first year as a professional, he was so much fitter and stronger. He scored at Rochdale and he's never looked back all the way to the Champions League. I am not just saying it because he's my friend but he's one of the best players in the world at the minute. He's been impeccable. He's won everything apart from the World Cup with England but it wouldn't surprise me if he wins that."
Bobby Hassell is now the academy manager and was in the first team when Stones first broke through. He said: "If I look back to John at 16, he was good but not a stand-out player. You wouldn't think he would be a Champions League winner. I think if you asked John he would admit he didn't envisage getting to these levels.
"But he was developed and managed really well by Ronnie and Bunny (Burton) in the academy then given a chance by the first team manager Keith Hill and developed very quickly. He left early, got into a Premier League environment and he's shown he's a very good learner. He was always ahead of his peers in terms of tactics and game understanding. He had the right mentality which is often overlooked in football.
"He's playing for the best manager in the world (Pep Guardiola). After a couple of really difficult years, he's really bounced back.
"A little town like Barnsley has produced, in my opinion, one of the best players in the history of the English game in terms of a ball-playing centre half who can also play in central midfield. He's probably got a four-year window now to win something with England and cap his career off with a Euros or World Cup win.
"I don't see why he can't."