RENOWNED watercolourist Ashley Jackson - who has captured Yorkshire's synonymous beauty for decades since setting up his first studio in Dodworth as a young man - will mark his 60th anniversary as an artist next week. Josh Timlin spoke to him about his childhood and his rise to prominence&
Although often referred to as a 'Barnsley-born' artist, he was actually born in the searing temperatures of Penang in Malaysia where his parents lived - his serving dad, Norman, was positioned there given it was a key outpost of the British empire.
His father died in Borneo at the hands of the Japanese - whose army swarmed British troops during World War Two and, after his mother Dulcie remarried, Ashley was brought home via India, but lived in Scotland for several years.
"My father effectively saved our lives when I was about 18 months old - the last thing he did for us was to put us on a ship," Ashley told the Chronicle.
"He stayed behind and it would have been the last time I saw him.
"He knew the Japanese were coming and realised his family's lives were at immediate risk.
"I've been up and down the Suez Canal that many times I could recall all the ships' names."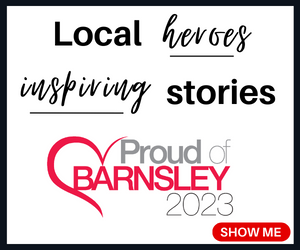 Now 82, Ashley settled as a boy and lived in Longman Road, off Old Mill Lane, and went to Holy Rood School before he studied at Barnsley Art College.
"I always knew what I wanted to do, so I'm very lucky in that way, but key to all of that was my love of where I lived - I adored being on the moors," he added.
"Barnsley was where my love of art was recognised by my teachers and headmaster."
He opened his first gallery in Dodworth - behind The Thornely Arms on High Street - in 1963 and spent seven years there before moving to Church Street in the town centre.
It was there where his works became internationally renowned - having been exhibited in galleries around the world, his paintings adorn the walls of many successful and famous people, from actors to royals.
Ex-President of America, Bill Clinton - an avid art collector - even owns an original watercolour.
But despite his jet-setting contacts book and fame, Barnsley remained Ashley's home and he clocked up more than four decades in the town centre until he turned 70.
The landmark birthday saw him move from his 'beloved' Barnsley to Holmfirth, where his current studio is, in its 'typically Yorkshire' centre.
It is there with a special anniversary exhibition - titled 'Established' - will open to the public on Monday and run until August 1, featuring original, hand-picked works which will sit alongside the cherished painting, 'Ewden Valley'.
The work - special to his family - is that way for a reason: Ashley's first date with his wife, Anne, was to Ewden Valley.
Having asked her parents if he could take her out, it was on the proviso that they also took her younger sister. A sketch was undertaken on the day, that then formed the foundations for a painting.
"Art has brought me heartbreak and happiness, opened many doors, although I also closed a few myself as I was a young man in a hurry, created friendships across political divides and most importantly provided an income to allow me to support my family," he said.
"It has not been an easy path to walk but I wouldn't change a single thing - my life has been lived to the full with passion and vision.
"Yorkshire is a place that means everything to me and I've adored capturing its beauty.
"So this exhibition aims to convey the love I have for it - this county courses through my veins and I'm proud of where I'm from.
"The full gallery of two floors will be open to the public from Monday to Saturday, from 11am until 4pm, and I hope visitors thoroughly enjoy it and share this special occasion with me."