CHAT show host and journalist Sir Michael Parkinson has died.
He grew up in Moorland Terrace, Cudworth, and his father Jack worked at Grimethorpe Pit.
He was educated at Snydale Road First School, Cudworth and Barnsley Grammar School.
After leaving school at 15, he did his journalism training at The South Yorkshire Times.
After National Service, he had a spell as a fork lift truck driver at Redfearns.
He joined the Barnsley Chronicle in 1956 but his stay was short - he quit after a row with then editor Ronnie Yates about an article promoting Yates' belief that hanging criminals was a good thing.
Parkinson joined the Yorkshire Evening Post in Doncaster and met Mary Henneghan who would become his wife.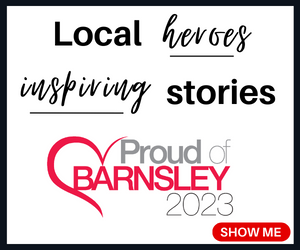 They had three sons - Andrew, Nicholas and Michael.
After stints on The Guardian and the Daily Express and on a Granada Television-run news magazine, he became a columnist on The Sunday Times in 1965.
He wrote about the Barnsley footballer Syd 'Skinner' Normanton. The hard-tackling player somehow struck a chord in other parts of the world and Parkinson was once invited to attend the annual dinner of the Kuala Lumpur Skinner Normanton Appreciation Society.
In 1968, 'Football Daft', his first and funniest compilation of articles, was published.
His first big break in front of the television cameras was as a presenter of the local news programme 'Scene at 6.30' on which The Beatles performed regularly.
He also appeared on the BBC current affairs programme '24 Hours' and hosted 'Cinema'.
He began his chat show 'Parkinson' on BBC1 in 1971. It ran until 1982 and from 1988 to 2004 on the BBC and until 2007 on ITV.
Sir Michael, who appeared on 'This is Your Life' in 1978 and was appointed a CBE in 2000, launched TV-AM with David Frost, Angela Rippon, Anna Ford and Robert Kee.
Sir Michael presented 'Desert Island Discs' between 1986 and 1987 on BBC Radio Four. 'Parkinson's Sunday Supplement' ran on BBC Radio Two for 12 years from 1996.
He joined the Daily Telegraph in 1992 and became a Dignity in Care ambassador for the government after his mother had to be moved into a home.
Sir Michael, who won four national TV awards including a BAFTA, lived in Bray, near Windsor and died aged 88 on Wednesday night.
A statement issued by his family said: "After a brief illness, Sir Michael Parkinson passed away peacefully at home last night in the company of his family.
"The family request that they are given privacy and time to grieve."