CHAT show host and journalist Sir Michael Parkinson - arguably Barnsley's most famous son - died at the age of 88 on Wednesday night. The Chronicle delved into the TV king's colourful life...
Parky grew up in Moorland Terrace, Cudworth and his father Jack worked at Grimethorpe Pit.
He was educated at Snydale Road First School, Cudworth and Barnsley Grammar School, but his time at the latter was not the happiest of his life and he left at the age of 15.
He did his journalism training at The South Yorkshire Times and after his National Service, he had a spell as a forklift truck driver at Redfearns in Monk Bretton.
He joined the Barnsley Chronicle in 1956 but his stay was short - he quit after a row with the then editor Ronnie Yates about an article promoting Yates' belief that hanging criminals was a good thing.
Parkinson joined the Yorkshire Evening Post in Doncaster and met Mary Henneghan, who would become his wife. They had three sons Andrew, Nicholas and Michael.
After stints on The Guardian and the Daily Express and on a Granada Television news magazine, he became a columnist on The Sunday Times in 1965.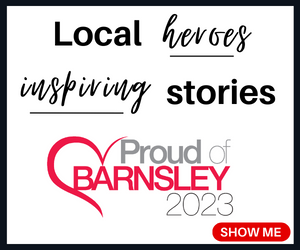 He wrote about the Barnsley footballer Syd 'Skinner' Normanton. The hard-tackling player somehow struck a chord in other parts of the world and Parkinson was once invited to attend the annual dinner of the Kuala Lumpur Skinner Normanton Appreciation Society.
In 1968, 'Football Daft', his first and funniest compilation of articles, was published.
His first big break in front of the television cameras was as a presenter of the local news programme 'Scene at 6.30' on which The Beatles performed regularly.
He also appeared on the BBC current affairs programme '24 Hours' and hosted 'Cinema'.
He began his chat show 'Parkinson' on BBC1 in 1971. It ran until 1982 and from 1988 to 2004 on the BBC and until 2007 on ITV.
Sir Michael, who appeared on 'This is Your Life' in 1978 and was appointed a CBE in 2000, launched TV-am with David Frost, Angela Rippon, Anna Ford and Robert Kee.
Sir Michael presented 'Desert Island Discs' between 1986 and 1987 on BBC Radio Four. 'Parkinson's Sunday Supplement' ran on BBC Radio Two for 12 years from 1996.
He joined the Daily Telegraph in 1992 and became a Dignity in Care ambassador for the government after his mother had to be moved into a home.
His chat show was a Saturday night television institution.
It brought to an end most people's evening viewing which included Dr Who, The Generation Game, Starsky and Hutch, Kojak and Match of the Day.
Just after strains of the Match of the Day signature tune had ended, a continuity announcer would intone 'on BBC1, it's Parkinson'.
Harry Stoneham's Parkinson theme tune would play and the host would bound down the stairs.
Parkinson was supposed to only run for a few weeks to fill a gap left by Match of the Day's absence from the screens during the soccer close season in 1971.
It ran until 1982 and from 1998 to 2004 on the BBC and until 2007 on ITV.
The show's golden years were perhaps in the 1970s and early 1980s. Parky once admitted no one knew if the show would work. There was just a gut instinct.
People remember the classic editions when the likes of David Niven, The Goons, Billy Connolly, Morecambe and Wise, Muhammad Ali, George Best, Harold Wilson, Miss Piggy and, of course, Rod Hull and Emu were on.
But some viewers probably do not recall as well the appearances of Orson Welles, WH Auden and 'The Ascent of Man' documentary presenter Dr Jacob Bronowski.
Unlike modern, vastly inferior, chat show hosts, Parkinson listened.
He only needed a whiff of an entertaining anecdote or admission and his interviewing skillls honed as a newspaper journalist would kick in.
Parkinson interviews, which were often akin to an angler luring a trout, should be shown to all journalism students.
The avuncular charm famously, or maybe infamously, failed to work on Hollywood actress Meg Ryan who was promoting a film. The interview got off to a bad start when Ryan said to fellow guests Trinny and Susannah 'oh, you just did a piece on fashion did you?'
Things went downhill from there. Parkinson recalled: "I had to make a decision - if I went for her, then I would look bad.
"There's a deal that goes on with these things. You have agreed to an interview and in that interview you will plug whatever it is you are doing and then the whole process moves on. She didn't want to do that."
Robert Mitchum appeared on the show worse for wear. A writer said the star of 'The Sundowners' would have probably been more comfortable being interviewed under the table.
When former Beatle John Lennon appeared in 1971, Parkinson was told he would have to stand in a sack if he wanted to ask about the Fab Four. Parky obliged.
Parkinson made a rare slip when he suggested Muhammed Ali had more white friends than black. The boxer went on a rant. Parky's father said later: "Why didn't you thump him?"
Parky won four national TV awards including a Bafta.
He would gently complain in later life that the days of the chat show host had gone. "Now it's about jokes - that's the Graham Norton thing and he's really good at it, but it's not a chat show."
But Parkinson, in nearly every interview he did, got the best from his guests and he'll be remembered in that manner.
However, reporting on local news was different in the 1950s.
Michael Parkinson was 15 when he did his training on The South Yorkshire Times.
Parkinson covered his patch on a drop-handled Raleigh bike. He dressed in a Humphrey Bogart-style trench coat and fedora fitted with knicker elastic to stop it blowing off his head.
Some of this adventures on the provincial news beat clearly led to his later colourful writing style.
It is customary for local newspapers to be kind to amateur dramatic productions. The young Parkinson wrote reviews differently.
A piece on a production of 'An Inspector Calls' began: "An Inspector Calls is a production which begs the question, why did he bother? Come to that, why did we?" The words never appeared in print.
When he worked for the Yorkshire Evening Post, he upset an amateur actor who ran an antiques shop - the irate part-time thespian turned up brandishing a cutlass and challenged Parkinson to a duel.
The paper's unsympathetic editor suggested Parkinson hire a sword and accept the challenge.
When he was on The South Yorkshire Times, he and the Barnsley Chronicle's Don Booker - later this paper's editor - went on the same assignments.
They hated doing obituaries; they would often be invited to view the body laid out in the spare room.
They went through this rigmarole so often that they could tell by the way the body had been laid out which undertaker had in charge of the funeral arrangements.
After spells on The Guardian and Daily Express, Parky joined The Sunday Times where, arguably, he did his best work as a print journalist.
Perhaps his greatest - and funniest - piece in print was entitled 'Monte Carlo Comes to Barnsley'. Parky found out a casino had opened in his home town. He recognised the huge comic potential and exploited it with the zeal of a Texan or Russian oil baron.
The article is a masterclass in gently poking fun without crossing the line to cruelty. The casino in a cinema is described as 'not quite Las Vegas nor even vaguely reminiscent of Le Touquet or Monte Carlo but plush and ritzy for this part of South Yorkshire'.
The cinema was adorned with posters advertising X-certificate continental films. The building represented 'the only bit of France in the whole of Barnsley'.
Parkinson knocks on a door, a slot opens and a pair of eyes 'the colour of best bitter' looks at him.
The eyes belong to the manager who recognises that the local are great gamblers. "The first bloke around here who can train flies to race each other up walls will make a fortune out of this lot," observes the manager.
The casino cannot have been much cop for Parky goes to the pub where a bookmaker, 'all loud mouth and wobbly cheeks', is saying how working down the pit has become easy.
A burly, middle-aged miner pipes up: "Tha's nivver worked down't pit."
The bookie says he worked in two-foot seams but the heckler says he could not even get his head in a two-foot seam.
The upshot is the bookie bets the heckler that he cannot get under a bench about two feet off the floor.
"By now, the whole pub was listening and watching. The miner grinned, dropped on his belly and eased himself under the bench.
"He also gave a short demonstration to show how to shovel coal out of a low seam.
"Given a potential clientele like this, the Barnsley casino cannot lose."
Pure Parky, Parky at his best...
Sir Michael, who went on to win four national TV awards including a BAFTA, lived in Bray, near Windsor.
A statement issued by his family said: "After a brief illness, Sir Michael Parkinson passed away peacefully at home on Wednesday night in the company of his family.
"The family request that they are given privacy and time to grieve."
Some of the biggest names in the industry have paid their tributes.
"Sir Michael Parkinson was a titan of television, the ultimate chat show host. We'll never forget his brilliant interviews with Muhammad Ali, Dame Edna, Billy Connolly and, of course, 'that bloody emu'. Matt Lucas.
"Sad to hear that Sir Michael Parkinson has passed away Barnsley bord and bred and an icon of the small screen for 60 years. His show was THE place to be for anyone who was anyone, his quick wit and rare ability to make A-listers's feel at ease made for unmissable TV. RIP Parky." Dan Jarvis MP.
"Michael was the king of the chat show and he defined the format for all the presenters and shows that followed. He interviewed the biggest stars of the 20th century and did so in a way that enthralled the public. He was truly one of a king, an incredible broadcaster and journalist who will be hugely missed." Tim Davie, BBC Director-General.
"Very sad news on the passing of Michael Parkinson. End of an era. RIP." Lord Sugar.
"Parky. King of the chat show hosts. A privilege to know him on and off screen and to learn from him. They don't make them like that anymore. RIP Sir Michael Parkinson." Eamonn Holmes.
"The genius of Parky was that (unlike most people (and most of his guests, me included) he was always 100 per cent himself. On camera and off. 'Authentic' is the word, I suppose.
"One should get used to the parade of people constantly falling off the edge, but frankly one doesn't. So long #parky." Stephen Fry.
"Sir Michael was a well-known and respected son of Barnsley and we're sorry to hear of his passing. He was always widely recognised for his Yorkshire roots in Barnsley and Cudworth, and in recent years he's reconnected with these roots which has been good to see. Our thoughts and condolences go to his family." Sir Steve Houghton, Leader of Barnsley Council.