A FATHER and son duo who have been completing fundraisers to raise money and awareness for an autism charity have been left 'overwhelmed' following their Proud of Barnsley nomination.
During lockdown, 37-year-old Robert Campbell from Monk Bretton started to notice some changes in his four-year-old son Harry's behaviour.
After going through the correct avenues, Harry was eventually diagnosed with autism in January.
Robert said he wanted to do his bit alongside his son to make people more aware of what the condition actually is.
He ended up raising around £1,500 for the National Autistic Society through a sports memorabilia raffle and a bucket fundraiser at Barnsley FC's League One fixture against Morecambe earlier this this year.
Robert told the Chronicle" "When Harry was diagnosed with autism, it was a case of the family being aware of it but not really knowing a great deal about what it actually meant.
"We thought a fundraiser during the National Autism Awareness Week would give us an opportunity to try and make more people aware.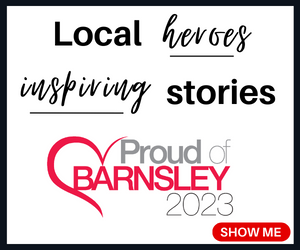 "We want to improve things for Harry as he's growing up.
"We did a sports memorabilia raffle and a bucket collection at Oakwell and in total we raised around £2,000.
"We never thought we'd raise that much money and it was really overwhelming and emotional to do so."
Robert and Harry aren't stopping there though - they've got some more plans to raise money for the charity in the pipeline.
"We are looking at doing something else," he said.
"The bucket collection at the football ground went really well so I know we're thinking about doing that.
"Last year I also ran 100 miles for charity.
"It's not something that's set in stone just yet but it's definitely something I can do again."
Upon hearing of his nomination, Robert added: "I'm really surprised by it - I'm totally shocked.
"It's nice to be recognised but I never thought that we'd get a nomination for something like this.
"I just can't believe it."