TRIPLE Olympic gold medalist Ed Clancy presented 'a very special' bike to a number of local refugees this week.
The bicycle was the 100th to be refurbished through a community-based scheme to recycle used bikes for refugees living in Barnsley.
The life-changing scheme is led by local volunteer Alex Simon, a pastoral mentor for young people in his day job and a keen cyclist in his spare time, with a talent for bike repairs.
It all started when Alex attended a meeting of a local refugee and asylum seeker support group based in Penistone, where someone reported that a refugee had requested a bike.
Alex had an old bike in his shed and offered his services to do up the bike and donate it.
Other requests from refugees quickly followed and soon the scheme took off, with local residents keen to donate their unused bikes.
On Tuesday in the Glass Works' public square, Ed and Alex presented the bikes to ten-year-old Amina, 30-year-old Tamru and brother and sister Ibrahim and Kaddi.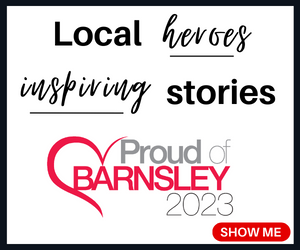 Tamru, who escaped from Eritrea, is about to start studies at Barnsley College and his new set of wheels will help him to get to college.
Ed said: "I was born here in Barnsley and my first love was riding bikes.
"For me, back then, before it was a vehicle for success, cycling was about getting out and about, seeing my friends - it was about freedom, independence, and choice - so I'm very proud to give out this special 100th recycled bike to another young person in Barnsley."