A BARNSLEY family whose daughter was born prematurely has kick-started a local hospital's fundraising appeal for premature and ill babies.
On December 14, Alice Wyatt gave birth to her daughter Erin eight weeks early - and she weighed just 3lbs 2.5oz and needed round the clock care.
For three weeks, Alice and her partner Luke Brown stayed close to their precious newborn at Rotherham Hospital's Neonatal Unit after being transferred from hospitals in Grimsby and Sheffield.
Now Erin is a strong and healthy eight-month-old, her family wanted to give something back to the NHS which cared for the tiny tot at such a crucial time in her life.
Alice, Luke and Erin's grandad Paul Wyatt raised £770 and were the first to donate to the Rotherham Hospital and Community Charity's new Tiny Toes appeal.
Alice, from Violet Close, Thurnscoe, said: "Erin's arrival was a rollercoaster.
"I developed pre-eclampsia suddenly at 30 weeks and the doctors said we were both at risk if they didn't deliver her, which was terrifying.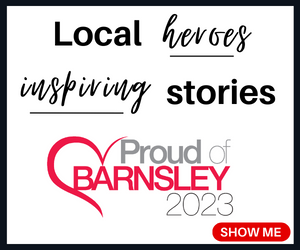 "Once she arrived, her condition would improve and then she'd take a step back.
"We are first time parents so it was really scary and new to us.
"All I wanted was to cuddle her, dress and bathe her, to have skin to skin contact - but Erin was so tiny and there were lots of machines beeping, which was daunting.
"It wasn't the birthing experience I'd hoped for but the nurses taught us so much about parenting in the weeks we were there - it was like baby boot camp.
"The nurses were looking after Erin but they made us feel cared for too - at the low points they helped to perk us up.
"One of our happiest memories was when a nurse called to tell us about Erin's first poo - we were all so happy and proud of her we cheered.
"There was also a lot of tears but we soldiered on during an adrenaline fuelled whirlwind.
"We were just desperate to bring her home.
"Christmas Day was really tough for us knowing she was on the ward and not in my tummy.
"We visited her in the morning and opened presents and then video called her later in the day.
"Nurses dressed her up in a woolly Christmas hat, made a card with her footprints on and gave us 'born in 2022' gifts, which really made us cry."
The appeal was launched earlier this month and aims to raise a huge £150,000.
The unit currently cares for an average of 14 babies at a time.
There will be space for 16 babies once the unit is reconfigured.
As the facilities are constantly used by parents, they are now worn and outdated.
The unit was designed in the late 1970s and built 40 years ago.
The trust will completely refurbish the unit to future-proof it for generations to come, with the charity fundraising for the added extras.
Alice added: "I think it's so important to have homely facilities, especially if you live there for weeks.
"There's a break out room and kitchenette, which are great when you need time away from the ward.
"The bedrooms are very draughty, which is important when your baby's temperature needs to be a certain level to allow them to come home.
"The facilities are dated and worn but it was perfect for us at the time because we could stay close to Erin."
Luke completed the 10K route around the picturesque Castle Howard estate in 57 minutes followed by Paul in one hour 10 minutes and Alice in one hour 31 minutes.
Alice said: "It was an absolute blast.
"It was more like a cross country track rather than a usual 10K with lots of hills and areas where I nearly lost my shoes in the mud.
"I wanted to do something that was a challenge because I previously couldn't run 1K without stopping.
"I am so proud of us - it was tough.
"I'm proud that we're the first Tiny Toes appeal fundraisers.
"We wanted to do something to help other parents who may go through a similar experience to us in future.
"I knew every penny would count and that spurred me on."