AN ill youngster's Christmas might not have gone completely to plan, but her mum is adamant to make sure this year can be as magical as possible after the community rallied together in support in 2020.
Hoyland girl Enya Haugen Jackson, six, was diagnosed with acute lymphoblastic leukaemia in July last year and has since undergone chemotherapy, moving into the strongest phase on Christmas Eve.
Her mum, 33-year-old Hayley Haugen, had been in hospital when she was told of her daughter's illness and was unable to see her for two-and-a-half months - something she found incredibly hard to come to terms with.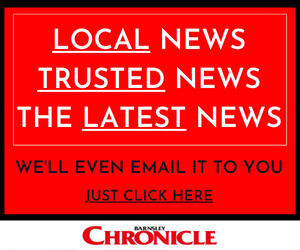 Back in October Hayley was hopeful she would be able to return home for Christmas with her family, but admitted that she felt it was just a glimmer of hope given to her by doctors and nurses to pull her through a hard festive period.
Hayley's serious health problems arose following gastric bypass surgery six years ago and was in hospital for the majority of last year, but her wish to come home was granted as she spent Christmas with her family in Hoyland.
She told the Chronicle: "I got discharged on December 12 under strict restrictions that I would be keeping safe under the Covid regulations.
"It was good to be back but it was a very hard Christmas - on Christmas Eve Enya started her chemo which was stronger than she previously had.
"She was really tired on Christmas Day and only managed to open four presents before she went back to bed - we wanted to make her Christmas really magical but it just didn't happen in the end."
Enya's sister, five-year-old Sylvie, has also found this year extremely hard mentally - leading both children to see a psychologist.
"If you mention anything about the illness to Enya she starts crying but the hospital have told us we have to be more straight with her," she added.
"It's taken its toll on Sylvie too - she thinks that we're spending more time with Enya and that when we go to the hospital it's kind of a special day out with mummy and daddy and that's not the case.
"Between now and February we've got 13 hospital appointments so it's going to be tough on Enya - we're trying to get Sylvie to one of them so she understands that it's not what she's thinking."
Hayley has thanked the work the Barnsley community have done for her and her family since Enya's diagnosis, with more than £3,400 raised.
"The entire community have been brilliant to come together during this time," she added.
"We've had a few people knock on our door with vouchers for shops and some charities have donated toys to the kids as well it's been great.
"We're hoping that we can take the girls away this year because it's been really tough on them.