STAND-UP comedian Pete Selwood said he's spent the 'worst months of his life' working a 'proper job' - after a promising live show with friend and Britain's Got Talent star Jack Carroll was derailed due to Covid.
The pandemic has had a lasting effect on live entertainment - with music, theatre and comedy shows cancelled across the board.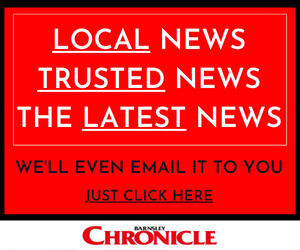 Pete, 30, from Penistone and now living in Honley, was even eyeing up a television deal with the show, 'Impairment' - which had a good run at the start of the year that saw audiences include David Walliams and television studio heads.
But the studios went with 'safe and cheap stuff' like ex-footballer Peter Crouch's talk show instead, said Pete, and any live shows were chalked off.
As he spent his spare time as tea boy for partner Jess Sharp's growing wellbeing-centred gifts business, Pete's ranting to Jack and fellow comedian Chris Copestake sparked an idea for a better use of his time.
The three got to work on a podcast, which takes the Impairment show into a looser format spread across several episodes - future ones featuring guests such as Alex Brooker and Jim Jefferies.
"There's been very little work for comedians so they've had to find other things," said Pete.
"One bloke has been driving vans for Iceland, and he was lining up to work with Michael McIntyre - so it's not just the people at the 'bottom'.
"I worked in a call centre and it was the worst three months in my life, fair play to anyone who can do it.
"People think lockdown has brought the best out of people, but it hasn't.
"I was ringing Jack and Chris complaining about the horribleness of it, as I didn't want to come home to my missus and have her deal with it."
The podcast, Impaired, takes on a different subject from the point of view of a person living with a disability.
Pete, who has syndactyly - meaning the digits on one hand are fused - has previously described the live show as playing with the idea that 'all disabled people are inspiring'.
"We recorded the first five at Jack's house, which has a few big rooms - he's got that Britain's Got Talent money," he said.
"It's gone down well so far.
"If you don't do something to feel proud of - rather than trying to fix people's internet - it gets you down."
He's also involved with booking the live tour for ex-Barnsley FC player Jon Parkin's cult podcast, Undr the Cosh, and hopes to get that back on the road as well as his and Jack's show.
Pete added: "When you're writing material, you want to go out and perform it right away.
"You want to prove you can still do it, rather than sitting in your pants watching Homes Under the Hammer."
Listen and watch Impaired on Spotify, Apple Music and YouTube.