A BOWLING club which has been surrounded by an ancient wall for centuries has called for last-ditch help to save the crumbling historic boundary.
The wall - which has been recognisable in the Old Town ward since the Industrial Revolution in the 1700s - forms a boundary between Old Town Bowling Club and nearby housing.
Research on the wall began with former councillor Bill Gaunt who confirmed the wall formed part of the boundary of Old Town.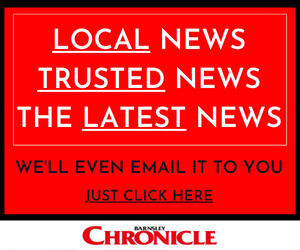 In 2019, Couns Phil Lofts and Jo Newing vowed to preserve the wall and its historical significance by writing to the brewery owners of nearby pub, The Miners' Rest on Palm Street.
However last weekend, the wall started to crumble, leaving a significant amount of debris behind.
Brian Holdsworth, the secretary at the bowling club, believes firm action wasn't taken by councillors to restore the wall and fears the leftover debris could spell disaster.
He told the Chronicle: "Two years ago the ancient wall caught the attention of local residents after it was left in disrepair.
"Our local councillors vowed to take action in preserving this historic wall and its continued upkeep.
"We were dismayed to find that part of the wall has fallen in on itself, leaving large chunks of stone on our bowling green.
"This is really disappointing after we were under the impression that these councillors were working hard with its upkeep - it seems nothing has been done.
"It's been in a poor state for years so it was only a matter of time before something like this happened on our green."
The Old Town Bowling Club, which started more than ten years ago and has around 60 active members, leases the green from the brewery.
"This has been an ongoing dispute for years of whose responsibility it is to maintain the wall," Brian added.
"If it's going to crumble, it could be dangerous to our members.
"I've had correspondence with Coun Lofts about these issues but nothing has developed.
"I'm disappointed with the lack of progress from our councillors and hope the wall can be repaired urgently."
Coun Lofts, who represents the Old Town ward, said the situation isn't 'black and white' and that more work needs to done in identifying the wall's owner.
"This wall is incredibly important to myself and local people as it's become a historic landmark in Old Town.
"I have been pressing this issue since 2019 and have worked to identify who has responsibility for this wall.
"It's become quite the conundrum for us as it's not clear who to contact. I have tried to contact the brewery involved but have yet to have a response.
"I do believe the coronavirus pandemic has impacted this significantly as correspondence requests are not always picked up.
"I will continue to work on this, along with Old Town Bowling Club, as we really want to get this sorted.
"If someone locally with knowledge of these kinds of repairs could help us, we might well be able to come up with money from our ward alliance.
"Ideally, if those responsible with the wall's dealings come forward, we can get the ball rolling with this sooner."