ILLEGAL off-road bikers causing thousands of pounds in damage on Barnsley's farmland will be stopped through cross-border partnerships and increased action days, police bosses have revealed.
Dr Alan Billings, South Yorkshire Police and Crime Commissioner, has vowed to take firm action after a rise in cases in the last year which has resulted in churned-up fields, crops being ruined and fences damaged.
The National Farmers' Union (NFU) revealed crime cost farmers in Barnsley communities such as Penistone, Ingbirchworth, Dunford Bridge, Royston and Shafton more than £600,000 last year, a rise of almost 5 per cent on the previous year's figures.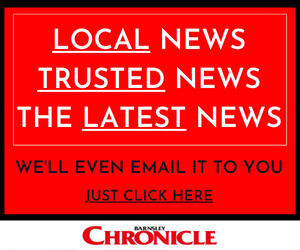 While the majority of the figure is down to machinery theft, a growing trend has been criminal damage associated with antisocial behaviour, caused by illegal off-road motorbikes and quads gaining entry to farmers' land.
Dr Billings said: "A farmer wrote to me about an issue that he and many of his fellow farmers are having to put up with constantly - the menace of quad bikes.
"This is not new, but it seems to be getting worse and, as he said, 'it is having a devastating effect on livelihoods'.
"Although he wrote in a very measured and reasonable way, you could feel the despair in every line.
"A small number of people with quad bikes are wreaking havoc across Barnsley's countryside - on a regular basis, crops are destroyed, fences and gates damaged and time and energy has to go into trying to block and then unblock gateways in an effort to keep the bikes out and carry on farming."
Barnsley has seen reports of antisocial behaviour involving off-road vehicles soar during lockdown - particularly in on-the-border communities where neighbouring South and West Yorkshire forces' boundaries cross.
Officers have recently launched 'Operation Musician Bravo' - forming a so-called 'battle group' of neighbourhood police, traffic cops and marked and unmarked vehicles - in response to concerns which have also 'decimated' wildlife, according to the NFU.
It means more targeted action operations will be carried out, as will cross-border work due to farming land often spanning across two counties in rural locations.
Dr Billings added: "Wildlife, such as hedgehogs and partridge, simply disappear from those areas set aside to encourage native species.
"Roe deer and hare have been harassed and one deer had her twin fawns chased onto a road where they perished.
"The farmer acknowledged the work of the police's off-road bike team, but knows they have to operate over the whole county, and other resources are stretched.
"But there is a possible way forward - a system of licensing. Quad bikes could be licensed, as we licence shotguns and as some drones are now managed.
"This is a longer term solution but I believe it has merit and I will take it further through the Association of Police and Crime Commissioners.
"We have to find a way of stopping this devastation before harassed farmers are forced to give up - we cannot have a small group of people holding farmers to ransom in this way.
"If you see off-road bikes being driven in a dangerous or antisocial manner or using footpaths and private land, please report it via 101 or online via the website."
NFU deputy president Stuart Roberts said the issue is getting 'much worse' and urged the police to step up work to protect farmers.
"It is becoming increasingly clear that the current police strategy to combat rural crime is not working," he added.
"We must also remember that these farms are not just workplaces but homes for farming families.
"As well as the financial burden crimes such as these cause, we need to recognise the severe impact it has on the mental health of farmers, their families and rural communities who frequently suffer intimidation and threats of violence.
"We want to see increased funding from the Home Office for rural policing and a more co-ordinated approach between police forces to tackle the serious issue of rural crime and reverse this current trend."