SHOPPERS in Barnsley weren't faced with the snaking queues seen in other parts of the country after a week deemed mostly 'back to normal' by retailers in the town centre.
This week marked the first time non-essential shops were able to reopen since January as part of the 'roadmap' towards ending lockdown measures.
A brief respite over the busy Christmas period saw many playing catch-up, with the effects on the economy of that and previous lockdowns likely to be felt for years to come.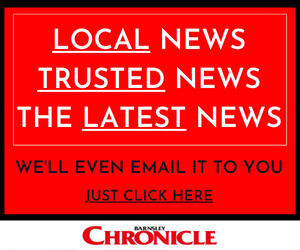 Barnsley Council is confident shoppers can be enticed back into the town centre - with dozens of local shops signing up to its Barnsley Gift Card scheme, a show of support and effort to 'kickstart' local trade.
Centre for Cities, which two years ago ranked Barnsley as the hardest-hit area in the country by austerity, has more recently named the town as the fifth-strongest recovering economy in terms of in-person spending.
The town centre scene this week, with the somewhat dystopian tannoy messages urging social distancing mostly gone, resembled most weeks before the start of the pandemic.
The main difference was long queues outside hairdressers.
Barnsley's market traders have returned with reduced hours in an effort to manage footfall.
Tim Steele, of Weigh to Save, said: "Monday was busier than a normal Monday. It's nice to be back all together - we are like a big family in there - and I'm excited to be back serving as normal again."
Tim has been doing deliveries and kept a stall at Penistone's Market Barn.
"A lot of my normal customers came through to Penistone and I have had a few new ones as well.
"People have started going to supermarkets more, and it's getting them back into town - I personally have been to supermarkets and I'd rather do my shopping in the market."
Janine Warner, whose Warner Family Jewellers has been serving Barnsley since 1945, said she was 'grateful people have waited'.
"One of the best things about Barnsley is that people still want to come and shop in town.
"Coming into town, you get that one-to-one relationship - I'm third generation and a lot of the market stalls are second or third generation.
"Our customers are genuinely family friends. I wondered if jewellery would be something people see as a luxury, but we've been so busy."
Keith Cowans, whose Market Street-based The Book Vault has spent more time operating in lockdown than in normal circumstances, welcomed author Michelle Rawlins for a behind-closed-doors book signing on Tuesday.
"It's not just a case of one or two days where it's really busy - it will get busier, particularly up to and including Saturday when it will be the first time some people will be in town.
"I know a lot of people have said they're not rushing into town, but people are keen to get out and we've certainly had people coming in at their first chance. There will be the review in May and we're waiting to see on that in terms of starting events such as our reading clubs for toddlers."
Claire Swallow, of The Closet Queen in the Victorian Arcade, said the shop's online following and increasing use of click-and-collect orders had been key.
"People have been trying to prioritise things and fit them in - mainly going to hairdressers and barbers and sprucing themselves up," she said.
"We have a big social media following, it's how we started seven years ago, and we're lucky to have that online business to keep us going.
"It sounds strange, but we didn't want to encourage people to come into the shop at first.
"I've heard about people queuing up Doncaster Road for Primark.
"We've been nice and steady.
"Everybody on the arcade is just buzzing to be back."
Matthew Gladstone, executive director for place at Barnsley Council said: "As we move through the recovery roadmap people will start to return to town centres and high streets and Barnsley businesses are ready to welcome them back.
"It was great to see people using the town centre on the day of the reopening, with higher footfall figures than seen on Mondays during December, on the run up to Christmas 2019, pre-Covid times.
"We'd like to thank everyone in Barnsley for playing their part, and ask them to continue to follow the guidance so that together we can stay safe, protect others and get Barnsley back in business."