PLANS to erect a Covid memorial sculpture - which will cost more than £200,000 - at the heart of the town's multi-milion pound regeneration scheme have been approved.
Barnsley Council, alongside the steering group established to oversee the memorial project, say they felt it was 'important' to have a memorial sculpture to mark one of the 'most challenging' times in the town's history.
The expected cost of the sculpture is £210,000 - which is within the overall budget provision of £450,000 - and it's set to be built on the Glass Works' main square, adjacent to May Day Green.
Artist Graham Ibbeson will create the sculpture free of charge, by way of demonstrating his love and support to Barnsley, its residents and communities.
The application for the new sculpture had originally been submitted in March but was granted full planning permission on Monday.
A statement said: "Barnsley is one of the only towns in the country to be planning a permanent memorial sculpture for the coronavirus pandemic.
"The artwork, to be known as 'Reverence', will provide a way for people to remember their loved ones and acknowledge the admirable and inspirational contribution of key workers and others during this momentous period in our history.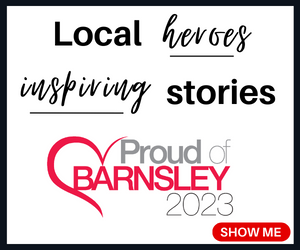 "The rear of the plinth will be inscribed with poetic wording developed by celebrated Barnsley poet and broadcaster Ian McMillan and reads, 'Barnsley's fierce love holds you forever in its heart'.
"Underneath this wording there will be a cast bronze plate made up of artwork selected from drawings of key workers submitted by primary school children from across the borough.
"This will mark the impact of Covid on a generation and along with the sculpture will endure for many decades throughout the lives of the children who have contributed."
A Barry Hines-made memorial sculpture was also granted planning permission by the council's planning board this week.
Affectionately known as the 'Kes Sculpture', the artwork depicts a scene from the film Kes - based on the book 'A Kestrel for a Knave' - by Barnsley author Barry Hines.
The piece has been temporarily on display in both the Experience Barnsley Museum and the new Library @ the Lightbox - though it was initially designed as an outdoor piece.
Permission has now been granted for the artwork to be placed in a prominent position - outside the Alhambra - so more people are able to engage with an 'iconic' piece of Barnsley's popular culture.
Leader of Barnsley Council, Sir Steve Houghton, said: "This memorial and project will mark one of the most challenging times in our history and be a permanent piece that will endure for many decades.
"It will be a key focal point in our new public square and provide a place for people to visit and commemorate those they have lost and remember the incredible efforts of those that worked tirelessly to look after us and keep things going.
"We are very grateful to both Ian and Graham who have offered their time and services for free by way of demonstrating their love and support to Barnsley, its residents and communities at this difficult time in our history."