Brad Collins says his last-minute penalty save was 'for the Barnsley fans' after he secured a 1-0 win over Coventry City at Oakwell on Saturday.
Collins dived to his right to keep out Viktor Gyokeres' injury-time spot-kick as most supporters came back to the ground for the first time in nearly 18 months.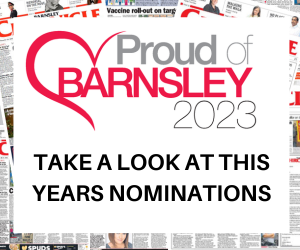 Collins, who said the referee was right to award the penalty, told the Chronicle: "The roar was unbelievable and that penalty save was for those fans. They have been out of the stadium for a long long time but I am really happy they are back and saw us win and keep a clean sheet.
"The fans made it a better moment. They made the whole game.
"We wanted to come out fast and get the fans behind us because our fans are fantastic.
"It was a tough game, especially in the second half. But we hung on and we have to lot to improve on but we've got our first win.
"It's good to get the first clean sheet and hopefully it's the first of many."
Head coach Markus Schopp said of Collins' save: "A goalkeeper is always dreaming about a moment like this to have in the last minute a penalty and he makes the save. Brad is always very focused and it's nice for us to have him in this position. Today he gave us something special."
Goal-scorer Dominik Frieser added: "The mood in the dressing room is now much better than if you concede an equaliser.
"At first I was thinking 'this is not good' but I saw the taker was a little bit nervous and I thought Brad would save it.
"For the fans see a game like this after 18 months must be really really good."
Schopp was pleased with the result and for the fans but wants more from his side.
"It was great to play in the stadium with the supporters in the away games but at home is a different level. We enjoyed every second even though it was a very tough game against a team who did a really good job.
"It was so important to bring this passion after more than 500 days that they were not allowed in the stadium, in which time the club had unbelievable success. We wanted to show them that we will give everything for this three points."
Schopp accused his team of being naive for conceding a 92nd-minute penalty, when Jordan Williams tripped Jamie Allen.
"I didn't see the tackle but my analyst told me the referee can give it.
"It was very naive from us to lose the ball in that area and this is something we have to improve. Some guys have to collect this experience. On one hand it is important to have three points, and the team was fighting until the end, but we know what we have to do better.
"With the attitude and style of the team, we are in a good way."
Referee John Busby booked eight Barnsley players, mostly in the second half, while Liam Kitching grappled with a Coventry player on the side of the pitch late on.
Schopp said: "We had almost no bookings in the first two games but today we did a lot. It was tough because Coventry found a lot of solutions and we wanted to cover them. Sometimes we arrived a bit too late and the referee can give the yellow card. It is much more to me about the attitude with which the guys tried to keep the three points."
Collins added: "It was a very very tough game but you will get that in the Championship. When Kitch (Liam Kitching) is grabbing someone up, that happens in football sometimes. We all stuck together and got the result."
Frieser opened the scoring in the 39th minute with his first goal at Oakwell.
The Austrian said: "I am very happy. It's my first goal at Oakwell and the first time I have scored in front of Barnsley fans and I have been training hard for this. It was a moment I will never forget. I was so happy running to the fans, I was searching for my wife but I could not find her. I saw the fans were going crazy. It was really nice.
"The fans were really, really good all game. They gave us a push for the win and helped us in the second half. They were really loud."
Schopp said on Frieser: "It was a good finish but that is exactly what we expect from him, that he is attacking the space behind the lines. We had one or two situations before the goal when we didn't play the ball and he was always on the jump to go deep. It was a perfect ball from from Romal (Palmer) and I am glad for Dominik because he is a hard-worker."
Carlton Morris came off in the first half. Markus Schopp confirmed he has a knee problem but was reluctantly to say more. The striker is set to have a scan this week.
Frieser said of Morris: "I hope it is not too bad. It looked not good but I didn't speak to him yet. He's really important for us and I hope it's not too bad."
Schopp did not include Herbie Kane or Devante Cole in his squad. He said: "We can only put 18 players on the list and I have to make decisions."