A WEAPONS amnesty bin placed outside a town centre shop saw more than 20 knives deposited in just two weeks - and the owner is hoping to get bins placed across the borough to combat 'scary' rates of crime.
Mitchell Cavill is the owner of Vape Store and Bargains Galore on Regent Street South and for the last three years has had a weapons amnesty bin inside his shop.
A number of people would occasionally drop off knives inside to Mitchell but since the arrival of his new bin - delivered to him by campaigner and author Ant Olaseinde, who strives to stop knife crime - he has seen blades longer than ten inches, as well as butchers' cleavers and serrated knives.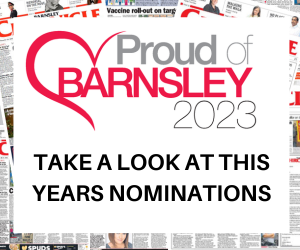 He told the Chronicle: "We've got at least 20 knives here and a lot of them are actually like prison shanks.
"I didn't expect that there'd be that many knives this quickly - I put up a post over the bank holiday weekend and then I came back and the bin was full.
"Even if just one blade was deposited in the whole year then that's a success - it's one less knife on the streets that people can use to injure other people."
Due to the clear success of the amnesty bin, Mitchell is now pushing on the council to help fund a bin for every area across the borough.
"It just really puts things into perspective when you see this," he added.
"Over the last few years I think that knife crime has gone through the roof only recently a 15-year-old died in Barnsley.
"My daughter is 14 so it's really scary to think about.
"Knife crime is something that really needs addressing and I'm hoping that we're going to be able to do that by putting a bin in every area in Barnsley.
"People aren't just going to walk from Athersley or Monk Bretton into town just to drop a knife off - we need to make sure there's more everywhere which is why I'm trying to get help from the council.
"The more bins that are out there, the more lives that will be saved."
In the long-run, Mitchell is also hoping to melt down the blades to make some kind of sculpture, perhaps a bench, to show that there is good that can come from the blades when handed over.
"You can change your life by donating the knives," he added.
"We're going to look to make some kind of sculpture when he hit different milestones to show that we are on the right path.
"It'll put a different perspective on it all."
Ant, who is also pushing for more bins alongside Mitchell in Barnsley, travels to primary and secondary schools to educate children on the matter - and he feels that without more education the problem is only going to get worse.
He said: "I go around in the community and talk to people - it's all about keeping the next generation away from knife crime.
"When I first started I didn't want to go to primary schools but now I am because they're asking me to come in as kids are bringing knives into school.
"I want to push more bins here in Barnsley and I'll look to help Mitch with the funding.
"These youngsters need educating that this behaviour isn't normal - without it knife crime is only going to get worse."