THE family of a Royston youngster who was born without the majority of his right arm were left 'in tears' last week after generous donations saw more than £8,000 raised for a bionic limb in a matter of hours.
Tommy Dengel, seven, has still managed to live his life as a normal child.
The youngster, who attends Parkside Academy, has made an 'unbreakable' bond with seven-year-old Lottie Haworth, from Scissett, who was also born without her left hand.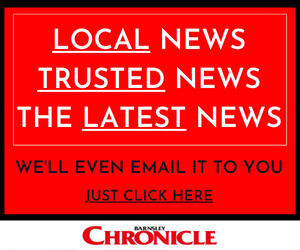 Together, they're trying to raise £25,000 so they can both purchase a 'Hero Arm' from Open Bionics - a bionic arm that will grow with them as they got older so they're able to function easier.
The arm that the families are fundraising for uses special sensors to detect muscle movements, meaning that it's easier to control the hand with 'intuitive, life-like precision'.
Both Tommy and Lottie's family have set up a joint fundraiser called - Can You Give Us a Hand? - to try and raise the thousands needed for a bionic arm each - and Jane said she's been 'overwhelmed' with the support they've already received.
His grandma, 62-year-old Jane Hewitt, of Wombwell, told the Chronicle: "We set up the page last Thursday and we've already reached a third of our target.
"We've got lots of fundraisers on the go who have raised a lot of money and it's still growing.
"There's skydives, walking challenges and a Halloween bike ride - people are being so generous.
"We're absolutely overwhelmed with the support that there's been - we spent most last Friday in tears."
Tommy's parents, Adam and Katie Dengel, both 32, create limbs using a 3D printer set up in their bedroom to help their son - this went onto form the LimbBo Foundation - a group who won a Proud of Barnsley award back in 2019.
But they're now looking at the 'hero arm' to help support Tommy.
Jane said that he hasn't let his 'little arm' stop him and he's taken everything that life has thrown at him so far in his stride.
"At the 20-week scan we found out that some part of Tommy's hand would be missing but then when he was born we found that he was missing his right hand and part of his forearm," she added.
"Ever since we've all had a positive attitude towards it and everyone has been great.
"All of Tommy's friends are so supportive and so the school have been too.
"Obviously there's always going to be some people that look at him but he sees it as him being special - and when he gets the bionic arm it will make him a different kind of special.
"It's different to the NHS arms which are like doll limbs but this is a proper piece of kit - it's a real game changer."
When Tommy and Lottie first met they had an 'instant connection' and they've been best friends ever since.
The pair tend to walk together with their 'little arms' locked together, and Jane admits that she's excited to see them link together with their bionic arms.
"They're both absolutely amazing and they're an inspiration for everyone," she added.
Tommy also has an incredibly close bond with his sister, five-year-old Layla-Jane.
"Tommy is just a lovely little boy, he's good with kids and he loves playing computer games - he's a really funny lad," Jane said.
"He's just like any other boy his age.
"He's really close with his sister, Layla-Jane, and there are things that Tommy can't do but he his sister always helps him out.
"Any form of support is massively appreciated and we're thankful of how generous people have been so far."