BARNSLEY'S community spirit shone through after residents raised more than £35,000 in memory of a mum who died just a month after giving birth to her second child following a cancer diagnosis.
Hannah Wilson, from Tankersley, died on April 25 after she found she had cancer the week before the birth of her daughter, Sadie.
The 41-year-old received her diagnosis while she was at the 30-week stage and her sister, Megan Warren, admitted how she had grown a baby with the pain she was enduring - and the amount of tumours in her body - is something that will always amaze her and her family.
She married her long-time partner Andrew, who she had been with for ten years, with less than 24 hours' notice at Jessops Hospital, Sheffield, where she was staying.
The hospital staff had never organised a wedding but her family said that 'you wouldn't have known' - and they arranged every little detail from a cake and flowers, to balloons and wedding favours.
Shortly after the wedding Hannah was moved to Barnsley Hospice, a place that her family are 'full of praise' for after staff offered the 'most heartwarming care and compassion you could believe'.
When Hannah died earlier this year, her wish was that no flowers were to be bought for her funeral, and instead she asked for donations to be made to all the services and charities that supported her during her final weeks.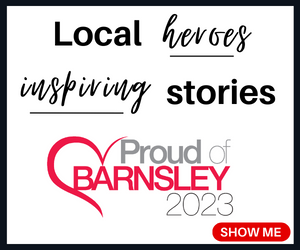 A fundraiser was set up to raise money for Jessops and Barnsley Hospice, as well as the Ambulance Wish Foundation who facilitated a trip to Scarborough where she spent the day with Andrew and her young son Jude.
When Hannah was moved to the hospice, Sadie was taken to Barnsley Neonatal Unit who worked to continue a close relationship with her mum, and the charity Mummy's Star provided memory boxes, a grant to help with childcare and cleaning, and support for her and the family - they're also mentioned in the fundraiser.
Since her death, more than £35,000 has been raised for the charities - a figure which Megan admits is extremely overwhelming.
She told the Chronicle: "Hannah asked that instead of flowers, she would prefer if people donated to the charities that helped her and our family.
"I don't think for one moment she ever imagined the amount that would be raised in her name.
"We have been overwhelmed by the generosity of family, friends and even strangers, and have found comfort in the legacy that Hannah has left behind.
"We knew she was amazing but it has been heartwarming to see so many other people with the same opinion and this will be great for her children to look back on in years to come, so they can see how incredible their mummy was."
Megan added the sheer amount of money which has been raised for the charities will make a 'huge difference' and she's thanked those who have helped 'smash' their target.
"Hannah was an extremely modest and private person, therefore as a family we have smiled at what she would be making to all of this," she said.
"The amount raised will make such a huge difference to all of the charities involved in Hannah's care.
"They are all worthy of every penny and made the worst time of our lives a little more bearable.
"As a family we will continue to raise awareness of these charities and plan to complete further events in the future to raise funds for them.
"Many of Hannah's friends have also been raising funds individually for the charities that supported her which we are incredibly thankful for.
"The loss we feel as a family is huge, there is a gaping hole in our lives and we miss her sorely.
"We are a strong family and have pulled together to try to come to terms with losing Hannah.
"She was one of life's good ones, positive, intelligent, caring and kind, whom we were all proud."