THE final of the Proud of Barnsley Awards was held on Friday.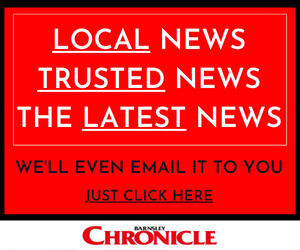 We were delighted to welcome everyone, as well as welcome back some familiar faces from across the borough to celebrate the achievements of our amazing finalists.
So without further ado, here are this year's winners...
Children's Champion - Rebecca Paddock
DESPITE being in her role for less than a year, headteacher of Worsbrough Common Primary School Rebecca didn't let the pandemic phase her.
She organised breakfast to be sent to her pupils via Amazon and created small gifts to help cheer up her pupils who were stuck indoors.
She said: "I am so proud of the team.
"It's a massive achievement and we were up against some amazing competition - I can't believe it."
Young Superstar - Jack Fenton
BRAVE Jack acted without thinking when he dove into the sea to rescue a boy who was drowning while on a family holiday to Skegness.
The youngster had come into trouble swimming in the choppy water, and the Kirk Balk Academy student has been credited with saving the boy's life.
Jack said: "It's fantastic to have won.
"I wasn't thinking when I ran into the sea. I am very happy."
School of the Year - Meadstead Primary
THE Royston school works with special needs pupils and made sure that 100 per cent of children could attend school during lockdown.
Staff co-ordinated daily check-ins with parents and pupils and ensured that all students had internet access.
Headteacher Nichola Smith said: "I feel overwhelmed. The staff deserve this.
"They have worked so hard to give the kids what they need. It's amazing to be recognised for what they have done."
Carer of the Year - Laura Stephenson
WHEN her four-year-old son was diagnosed with high-risk neuroblastoma, Laura set about fundraising to provide him with an innovative treatment.
More than £269,000 was raised for little Oliver thanks to an army of Barnsley residents.
Laura said: "I can't believe it.
"I think it's only just sunk in how much we had to raise to be able to have Oliver treated in New York.
"Thank you to everyone who donated to help my little boy."
Charity Fundraiser - Matthew Newton
ICE hockey mad Matthew has organised charity matches for the past six years in a bid to raise money for children's charities.
His efforts have raised more than £100,000 which will go towards helping sick children.
Matthew said: "I am shocked.
"Just to be nominated was great, but to win is amazing."
Hospital Hero - Ward 17
STAFF on Ward 17 have been praised for their hard work and resilience after being on the frontline treating coronavirus patients throughout the pandemic.
Their work has helped to save countless lives and staff even worked on their days off to make sure that patients were cared for
Louise Smith, from the ward, said: "We recently lost one of our colleagues so this award is dedicated to her.
"This past year has been extremely difficult and this is the light at the end of a very long tunnel."
Exceptional Achievement - Jubilee House
WHEN the pandemic hit, staff at the care home self-isloated away from family and friends in order to keep the residents safe.
Staff slept in offices and tents and in a bid to prevent residents from catching the virus.
Manager of the home Sellwane Mongake said: "I am so proud of the hard work of the staff.
"I appreciate it wasn't easy being away from their families but I am very proud of them for what they did."
Triumph Over Adversity - Daniel and Stacey Fleetwood
PARENTS to 14-year-old Lucas who 'went to bed healthy but never woke up' created a memory garden in his honour to provide a safe space for parents to grieve.
They raised more than £11,000 for the Forget You Not Garden which sits on the grounds of Barnsley Crematorium.
"I am blown away," said Daniel.
"This is for Lucas. I am very happy that we have created a space for grieving parents and that Lucas' name will live on."
Charity of the Year - H.O.P.E
H.O.P.E - Helping Others Engage Positively - was created by Peter Robertshaw after he suffered abuse as a child.
Peter wanted to help his local community and worked throughout the pandemic to help provide services.
Kim Scholey - who collected the award on Peter's behalf - said: "I am sad that Peter can't be here to collect this award but he is a great man.
"Without the services of H.O.P.E I may not be here today and I have him to thank for saving my life."
Community Hero - Abbey Khan
OWNER of Alam's Lounge, Abbey provided more than 2,500 meals to those in need during the pandemic.
The home-cooked meals were distributed to front-line staff, emergency drivers, and members of the public who didn't have access to a hot meal.
He said: "I am speechless.
"The nomination was enough but to have won is amazing."
Sporting Achievement - Sue Bailey
PARALYMPIAN Sue put the cherry on top of her sporting career this year and won a bronze medal in the Tokyo Paralympic Games.
Sue has competed in the table tennis Paralympic event since 2000 and won her first paralympic medal this year.
"To have won my first paralympic medal this year, and now this, I am over the moon," said Sue.
"It's just wonderful."
Community Hero - Low Valley Flood Group
THE group was formed in 2007 by residents who have been blighted by flooding.
Members have helped to fundraise for better flood defences and help notify each other when the river levels rise.
"I am ecstatic," said leader of the group, Sue Bradshaw.
"I am dedicating this to my husband Pete who set up the group because without him, none of this would have happened."
Love Where You Live - Carlton Marsh Wildlife Group
THE group have spent 50 years transforming a derelict stretch of land and turning it into a thriving nature reserve.
They have brought nature back to the site and members hope that the marsh will be there for hundreds of years.
"We started the group when we were young men, and it's been a lifelong labour of love," said founding member Cliff Gorman.
"We never thought that we would win but we are elated."
Volunteer of the Year - Pat Padgett
PAT has dedicated her time to the Guides for more than half a decade.
She has also chaired the community group - Athersley Cares - and has acted as the Barnsley commissioner for the Girl Guides.
"I wasn't expecting this," said Pat. "I have always loved the Guides and I will continue to give my support to them."
Charity Fundraising Team - Barnsley Live
A GROUP of musicians didn't let being unable to play live music stop them from raising money for charity.
Artists usually involved in the event virtually came together to create a charity single to raise funds for Barnsley Hospital.
Chris Scarfe from the event said: "We love live music, and we are passionate about it.
"Thank you to everyone who bought the single and helped to make a difference."