A SCULPTURE commemorating more than 900 Barnsley people who have lost their lives to Covid-19 was unveiled in the town centre this week.
In a ceremony attended by numerous special guests and local leaders, Graham Ibbeson's 'Reverence' statue - seven figures representing the different members of society affected by Covid-19 - was unveiled in the new public square at the Glass Works on Monday.
Local sculptor Graham - who also created the newly-unveiled Kes statue - spent nine months on the design in collaboration with Lockbund Foundry.
It features figures cast in bronze including a young girl, older man, volunteer, nurse, carer, police officer and a teacher.
"For me, the statue being in place is a result of nine months of hard work," he said.
"It's a focus on hope, but also on bereavement for all of the people we have lost.
"A lot of statues these days are of celebrities and politicians, but this one is about ordinary people who have done extraordinary things.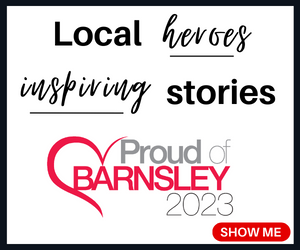 "I feel honoured that these people are part of my community."
The memorial, which is engraved with emotive words from poet Ian McMillan - 'Barnsley's fierce love holds you forever in its heart' - is estimated to have cost around £210,000.
Professor Dame Hilary Chapman DBE, Lord-Lieutenant of South Yorkshire, also attended the ceremony and gave a speech.
Dame Hilary, who has also worked as a registered nurse throughout the pandemic, said: "We've all seen the worldwide effects and the impact of the pandemic, but the impact on our town and our people has been both profound and devastating.
"We have seen too many people die, too many people who are still feeling that loss.
"The other privilege I have is that of being a registered nurse, still working in the NHS, and I've been able to work throughout the pandemic.
"Working through lockdown meant that I saw the tragic impact first-hand, but it also meant that I didn't feel that dreadful isolation that many people experience.
"The memorial is about remembering those people who have been and continue to be affected, but it's also about recognising the tireless and sustained effort of many ordinary people who have worked and volunteered throughout the pandemic serving our community.
"People including those who ensured that deliveries were made, food was in our shops, we could get to work on buses and trains and that our bins were emptied.
"The unveiling of the memorial is a mark of respect to all those who have worked tirelessly and shown kindness in support of all of us.
"It's a time for hope for our future."
Other guests including Lord Bishop John Sentamu, local MPs and members of Barnsley Council were part of the ceremony.
Dr Richard Jenkins, chief executive of Barnsley Hospital, added: "Our hospital and our local partners are part of the fabric of Barnsley.
"The spirit we see throughout Barnsley is reflected in the community we work with in the hospital and in the NHS.
"With this memorial we commemorate these people, this community, and the bonds between them which has served this town so well through the pandemic.
"We never imagined early last year the change Covid-19 would bring to the world, and never before has our community been so deeply affected by a virus.
"The response we have witnessed from Barnsley is unmatched.
"We were blown away by the level of support we have seen from the people of Barnsley and it has certainly pulled us through some of the darker, more challenging periods early on.
"The outpouring of kindness really made a key difference in how our staff, and other key workers felt."