'EVERYBODY has had enough of sleaze', says mayoral candidate Dr Simon Biltcliffe - who believes he can bring some much-needed common sense to politics.
The businessman, at the helm of marketing firm Webmart, said if elected he will donate his entire £79,000 mayoral salary to Samaritans - for whom his mum volunteered for more than 30 years, starting when he was a child.
Dr Biltcliffe, who also chairs Barnsley FC's Reds in the Community arm, added he'll also publish all his expenses claims online.
The Oxford Brookes University graduate - who set up the firm in Oxfordshire in 1996 but now lives in Haigh on the Barnsley-Wakefield border - has tied himself to the centrist Yorkshire Party having become disillusioned with Labour.
But he's coming at the role from a different angle to your typical politician.
"I see it as an ambassadorial role, to make sure we get a decent opportunity and can put our best foot forward," said the 56-year-old.
"Yorkshire is a great place to live and work, with affordable housing, relative to many other parts of the country.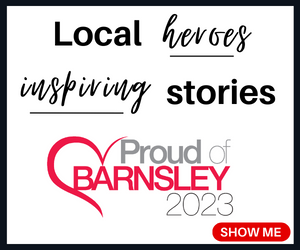 "There's an opportunity now to stay where you were brought up, and get a good job.
"It's a great opportunity to keep the talent that grows up here in the area.
"My generation all had to move down south, and a lot of people from Barnsley are doing well down there now.
"But if we give them the life they want here, they shouldn't have to go to London."
Webmart - the first firm to move into Barnsley's Digital Media Centre in 2010, now based in Barugh Green - regularly turns over millions with a staff of less than 40 people.
Dr Biltcliffe, a Barnsley FC season ticket holder who can be seen at games wearing a 'precious' red scarf knitted by his mother, said he runs the firm with a simple message - 'do what you want, as long as your mum would be proud'.
That's seen profits shared amongst employees, as well as to charities and environmental concerns - something also informed by growing up in the shadow of the miners' strike and seeing its disastrous effects on opportunities for local people.
"I'm not coming in as a politician - I have got experience of being around politics, I've done speeches in the House of Commons - but I've got a healthy dose of common sense and hard work," he added.
"I know how to bring people together and deliver things, rather than words.
"I don't think you have to be a politician to be involved in politics.
"I draw my strength from other areas.
"It's one of the reasons I'm not going to take a salary, and publish all my expenses every month.
"Everybody has had enough of sleaze."
The Yorkshire Party received seven per cent of Barnsley's vote in 2018, coming third.
But the new candidate believes Labour's waning popularity, and the use of first and second preference votes in next year's election, could give him a solid chance should voting be split.
An admirer of current South Yorkshire Mayor Dan Jarvis - but not of the party he represents - Dr Biltcliffe believes more should be made of Barnsley and South Yorkshire as places for companies elsewhere, particularly in the south, to expand.
He adds a business twinning scheme could establish fruitful economic links.
"We need to be in control of our own destiny," he said.
"One of the reasons I was struck by the Yorkshire Party is it's the party that's unequivocally for devolution.
"I think most people see devolution as a desirable thing - Scotland and Wales have shown how it can work.
"If you walk down any street here and ask what Labour stand for, a lot of people wouldn't be able to tell you."