AT THE same time as Barnsley FC play their crucial Championship relegation showdown against Reading at Oakwell tomorrow, the town's rugby union club will be in a vital match of their own but at the opposite end of their table.
Barnsley won 48-23 at home to Skipton on Saturday, leaving them a point clear in first place in Yorkshire Division Three with second-placed Harrogate Pythons having played a game more.
The Shaw Laners, who have four games left, are ten points clear of third-placed Bramley Phoenix who they visit tomorrow from 3pm.
A win would mean Barnsley are guaranteed to finish in one of the top two places, which are expected to guarantee promotion.
The club was relegated in 2020 and is looking to bounce back at the first attempt following a cancelled season due to Covid-19.
Director of rugby Mark Smith said: "What a weekend it could be for Barnsley sport as the football club have their really important game in their survival fight against Reading and it would be another amazing effort if they could stay in the Championship this season.
"As a proud Barnsley person, I know the football club play an important role in how many thousands of people in the town feel and I hope we can celebrate an amazing double come the end of both seasons.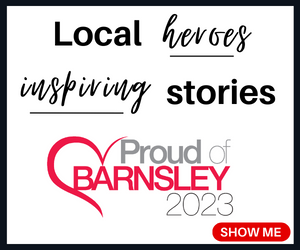 "A win this Saturday will guarantee us top two in the league but, after being at the top all the way through, we want to be champions.
"How many get promoted hasn't been confirmed to us yet but we know there is a re-organisation of the leagues taking place so we just want to keep on winning and have something to celebrate.
"This year is also the tenth anniversary of us being champions of Yorkshire Two so let's hope we can make it another special end to a season."
Coach Kieran Hyde added: "It's a big game.
"Bramley are a physical team with good outside backs so we will have to be prepared all over the field.
"If we turn up with the right attitude, I believe we will beat any team.
"It's more motivation that, if we do the business, we will be promoted then we can focus on winning the title.
"To finish in the top two has been our target since the start of the season.
"There's no reason why we can't win all our games and go up as champions.
"But any team can beat us if we have an off day.
"The lads need to work harder now than they have all season."
Barnsley were 26-6 up at half-time against Skipton thanks to tries by Will Lowe, Tom Hardwick, Andy Smith and Mark Fisher, with Joe Perry adding three conversations.
Skipton scored three tries after the break but Barnsley added four with Fisher and Hardwick going over again while Gregor Napier got two tries.
Perry kicked one more conversion.
Hyde added: "It was a good reaction to losing to Hemsworth last time.
"We had to win – there were no ifs or buts.
"Every game has to be like a final.
"We played like it was and got ourselves back in a strong position.
"It was a good, physical game.
"Skipton had a short bench but we had some injuries early on so lads who normally play 60 or 70 minutes had to do a full 80.
"There were a few sore bodies on Sunday and Monday.
"Both teams went at each other for 80 minutes in a good game but, in the end, we had a little bit more in attack.
"Our defence was really good as well."
Wath won 21-5 at home to Northallerton in Yorkshire Division Two.
Aynsley Williams and Joel Gunn touched down with Jack Whitlam kicking a conversation and three penalties.
Barnsley Ladies' game at Lichfield was called off. They are due to visit Novocastrians tomorrow.