A BARNSLEY woman says she's 'lucky to be alive' following a horror collision on a notorious road which has seen three crashes in as many weeks - including one fatality.
Doncaster Road, Ardsley, has long been a concern for local residents who fear speeding cars on the stretch - and the recent removal of its speed camera - make it a ticking time bomb before a pedestrian is hit.
Chloe Coles, 22, was travelling to her dance school's show in Worsbrough - but a car, reportedly speeding and swerving in and out of traffic, smashed into the back of her, sending her spinning into a wall and back into the road before its occupants allegedly fled the scene.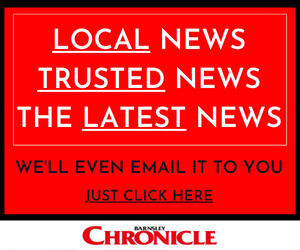 South Yorkshire Police - whose officers have obtained CCTV footage of the impact - confirmed the incident occurred at around 4.10pm on Saturday.
Chloe added: "I am the luckiest girl in the world but I feel so unlucky.
"I'm so grateful for the outcome but I'm so upset.
"I still haven't fully grasped what happened but I can assure you it will stay with me way past Saturday.
"You never think it will be you.
"I only got my car two months ago and as much as I'm heartbroken of how it's ended up, I cannot be more grateful for how safe it kept me."
She said she will never 'not be disgusted' at the 'dangerous driving' - though she admits what happened after was a blur and the majority of what she knows has come from other people.
She added she wants to thank those that helped her in her moment of need, especially the staff at furniture store Kemenka.
"The last thing I expected was to be in a car crash, let alone when all I could think about seconds before was how excited I was for a dance show," she added.
"But it just happened and my world could have changed in so many different ways because of it but I'm glad it's changed in much better ways than it could have.
"I'm not going to preach that everyone needs to drive safe because it shouldn't need saying at all.
"You choose the danger you put yourself in but you should never be the one choosing to put someone else in danger too.
"The damage caused to me, my family, my car and my friends for a quick thrill ride is something I will never not be disgusted at.
"I was an innocent girl driving so excited to see my beautiful girls and boys in their dance show that was ten months in the making for it to be taken away in ten seconds - and it was completely out of my control.
"I did nothing wrong yet I'm now dealing with all the consequences."
Flashing 20mph signs were put up on the road earlier this month after they were originally promised last summer.
The new signs have been installed as part of a scheme and have been long-awaited by residents and Speed Awareness Group Ardsley (SAGA) who have been campaigning for measures for years.
Barnsley Council confirmed the road is an active site for mobile speed enforcement.
Paul Castle, service director for environment and transport, told the Chronicle: "We were saddened to hear of an incident on Doncaster Road and our thoughts are with the family, friends and everyone affected by this.
"South Yorkshire Police are carrying out a detailed investigation into the circumstances of this collision.
"The council is unable to comment on any collision until police have concluded their investigations."