EUROPE'S largest parcel distribution hub - which has resulted in large-scale demonstrations from angry campaigners - has been lauded by Barnsley Council bosses as a 'way out of poverty' amid rising foodbank use and record-breaking levels of benefit claims.
Hermes' state-of-the-art Hoyland facility, dubbed 'Colossus', cost £60m and now dominates the view from the M1.
A total of 607 new car parking spaces, 43 disability spaces, 33 motorcycle spaces and 60 cycle spaces have been created on former green belt land, which has been mired in controversy for 'decimating the area's greenery'.
However, council leader Sir Steve Houghton and his newly-appointed deputy, Coun Chris Lamb - who represents the ward where the warehouse stands - defended the local authority for awarding planning consent to Hermes, which is now known as Evri.
Jim Andrews, a former Rockingham councillor and the previous deputy leader, lost his seat at last month's local elections - and Hermes' arrival off Tankersley Lane was widely touted as a key reason.
Coun Lamb - who admitted ward colleagues had faced a backlash about the reported 1,400-job development - said: "We received a great deal of personal criticism in terms of the Hermes development.
"For many, many months there were accusations of all sorts of unpleasantry and some still continue.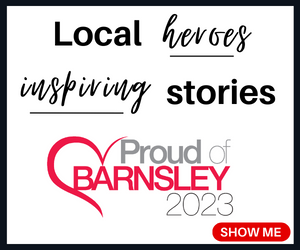 "Of course everybody has the right to comment and everybody has the right to their views.
"I'm only standing here (as deputy leader) because a very loyal servant to this borough lost his seat.
"When the plans were submitted, people said the jobs on offer would be zero-hour contracts and minimum wage, that there were no trade unions in place at Hermes.
"We now know - and all it takes is a look at their website - that adverts for jobs there range between £23,500 and £66,000-per-year, and trade unions are in place.
"These jobs have never been available in the Rockingham ward up to this point.
"What I will say is that one or two people might want to say 'sorry, we got that wrong' about Hermes."
The 46-hectare site, allocated for employment use in the council's local plan development blueprint, underwent a two-year public examination before planning bosses agreed that allocating land within the green belt was unavoidable.
Sir Steve revealed his sympathy with campaigners but warned the 'difficult decisions' taken had to be done amid rising poverty levels and 26,000 residents relying on benefit payments.
"You cannot build a borough on a benefits system - you have to build it on people in work," he added.
"That begins by a good education system to underpin it, so people can be the best they can be, and access the opportunities.
"Barnsley's jobs historically were underground - we do not have the benefit places like Sheffield and others did when their industries collapsed as they were left with massive brownfield sites that could be rebuilt.
"That was not the case in Barnsley - our borough is green.
"The challenge for us over the last 20 years has been to find sites for employment - if we don't make those changes, the reality is that there will be more foodbank use and more poverty, and it will go on and on.
"We won't get this borough into a place that we need it to be if we do not have those employment sites.
"Plans are not always welcomed and I understand that, but we have to break that cycle.
"We will continue to do that, even though we've been criticised for it.
"If we don't do it, nobody else will - there's no magic company out there looking to make it okay for Barnsley, so we have to encourage it.
"That means we have had to make difficult decisions but if we don't, generations to come will look back and question why, in 2022, we didn't take those decisions.
"The way out of poverty, the way to give you and your family a better future, is to have a job, a well-paid job."