THE family of a young mum who lost her battle with cancer just weeks after giving birth to her second child have been shortlisted for a Proud of Barnsley award after raising almost £40,000 in her memory.
Hannah Wilson, from Tankersley, died on April 25 last year after she found she had cancer the week before the birth of her daughter, Sadie.
The 41-year-old received her diagnosis while she was at the 30-week stage and her sister, Megan Warren, admitted how she had grown a baby with the pain she was enduring - and the amount of tumours in her body - is something that will always amaze her and her family.
More than £35,000 was initially raised in Hannah's name following her death, split between Jessops and Barnsley Hospice, as well as the Ambulance Wish Foundation who facilitated a trip to Scarborough where she spent the day with Andrew and her young son Jude.
When Hannah was moved to the hospice, Sadie was taken to Barnsley Neonatal Unit who worked to continue a close relationship with her mum, and the charity Mummy's Star provided memory boxes, a grant to help with childcare and cleaning, and support for her and the family - they're also mentioned in the fundraiser.
The family's most recent fundraiser saw more than £3,000 raised as a number of people close to Hannah completed the Great North Run for Mummy's Star.
Her sisters Megan and Beth Thorpe, alongside her friends Rebecca Stubbins and Catherine O'Dwyer took on the challenge.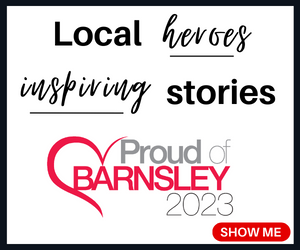 Megan told the Chronicle: "Between the four of us we have raised more than £3,800 which is incredible and will help so many other women and families who are diagnosed with cancer in and around pregnancy.
"Again, we have have felt so grateful for the generosity and support we have received, especially given the overwhelming support we received only last year when we raised nearly £36,000 for the charities that supported Hannah at the end of her life.
"We would just like to say a huge thank you to everyone who has supported us and donated.
"All of us were nervous about the run as we had never ran anywhere near that distance before.
"With all of us having young children we struggled to fit in training around family life but we did the best we could.
"It was tough but an amazing experience, and we all agreed that after watching Hannah suffer as she did and show such remarkable strength after her diagnosis, that in comparison it was nothing and we could do it."
Hannah was described as an 'extremely modest' and 'private' person who was 'one in a million'.
Megan and her family have made the shortlist for this year's Proud of Barnsley awards - which take place on November 18 at the Barnsley Metrodome - in the Triumph Over Adversity category.
Megan said: "If I'm honest I'm just a bit shocked but it is lovely for someone to think of us and nominate us.
"It has been a lovely surprise.
"Again, as a family we will always be immensely grateful to the services that supported Hannah in her final weeks."