A BARNSLEY actor has become one of the most viewed people on the internet with the tear-jerking advert he stars in going viral with over 50 million views.
Tom Briggs, of Worsbrough, is the dad in the advert - The Go Kart - which has won acclaim with many saying that it has outclassed big budget adverts by the likes of John Lewis, Tesco and Sainsbury's this year.
It is the official Christmas advert by Yorkshire videography company Sam Teale Productions and the small business has been praised for its emotional look at the festive season amid the backdrop of the cost of living crisis.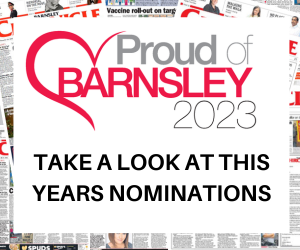 Tom plays a struggling dad who has lost his wife and is fighting to make ends meet for the sake of his young son.
It starts with the little boy telling his barber that 'Santa's poorly' this year and the dad is then seen cooking for his son with just a glass of water for himself.
He puts his son to bed before breaking down in tears after turning the heating and lights off and donning his coat to save on energy costs.
During a visit to his wife's grave, he is reminded of them as children playing with a homemade go kart, giving him the idea of making his son a go kart which he gives him on Christmas morning.
The ad finishes with the father and son visiting the graveyard and the little boy wishing his mum a merry Christmas.
The message 'the magic of Christmas is made, not bought' then appears on screen.
Thousands of messages of praise have been posted on Facebook with many saying the advert had brought them to tears and is definitely the best advert of the festive season.
Tom said: "I'm a jobbing actor from Barnsley - I work in theatre filming, commercials, voiceover, music videos and photography.
"A lot of my work is in London but I travel all over the UK and overseas.
"The production company saw my showreel and I was asked to send a self tape on my phone.
"It was pretty rushed as I was on holiday in Turkey with my girlfriend and my mum and dad.
"I quickly improvised a small scene in the hotel room and got emotional while my girlfriend showered and I recorded just before we went out to eat.
"It was filmed over two days between Mirfield and Brighouse, not in chronological order, and I met Ashton, my on-screen son, five minutes before we began filming.
"I've played a dad a lot of times now and know how to establish chemistry that works on screen pretty quickly.
"We did have a great time filming together, all the races to the lamp posts and running through the park were what we were actually doing to keep warm when the camera wasn't rolling.
"I suggested that they should turn the camera back on and use a few shots of us racing each other and swing dodging in the final edit to see the relationship.
"It's amazing that we got this many views, it's been on TV with ITV, BBC News, Sky News and it's also been in the national newspapers and countless magazines.
"Even Australia national news, too - it has over 50 million views now and still going up."
Tom, who will be home in Barnsley for the festive season, is currently appearing in the pantomime Aladdin at the Lamproom. He added: "I will be celebrating Christmas with my girlfriend and the family at my mum and dad's house, playing games, eating, and watching Home Alone.
"I have done a lot of pantos at the Lamproom - this is the second time I've done Aladdin there.
"I'm having a great time with the guys as the cast are amazing, and we are all so close.
"I love performing in the pantos during the build up to Christmas.
"My folks and all my family live in Barnsley, I'm Barnsley born and bred."