PEOPLE of a certain age will have heard tales of the original Barnsley FC mascot... and it's not Toby Tyke.
Amos Riley was the first recognised mascot at Oakwell and he was more than happy to make an ass of himself.
Confusion has lingered for many years over whether Amos was the man or the donkey in the double act but Kevin Langley wanted to clear it up once and for all.
He said: "Over many years our family has read local news snippets about Amos being the donkey and I needed to clear this up.
"The not-too-often-seen picture of Amos and the donkey where the caption is actually correct regarding 'Amos', yet states the donkey is 'famous'."
It was during the club's glory years just before World War One when Amos and the donkey were making a name for themselves. They both feature in an iconic picture outside the Clarence Hotel, then the headquarters of the Reds.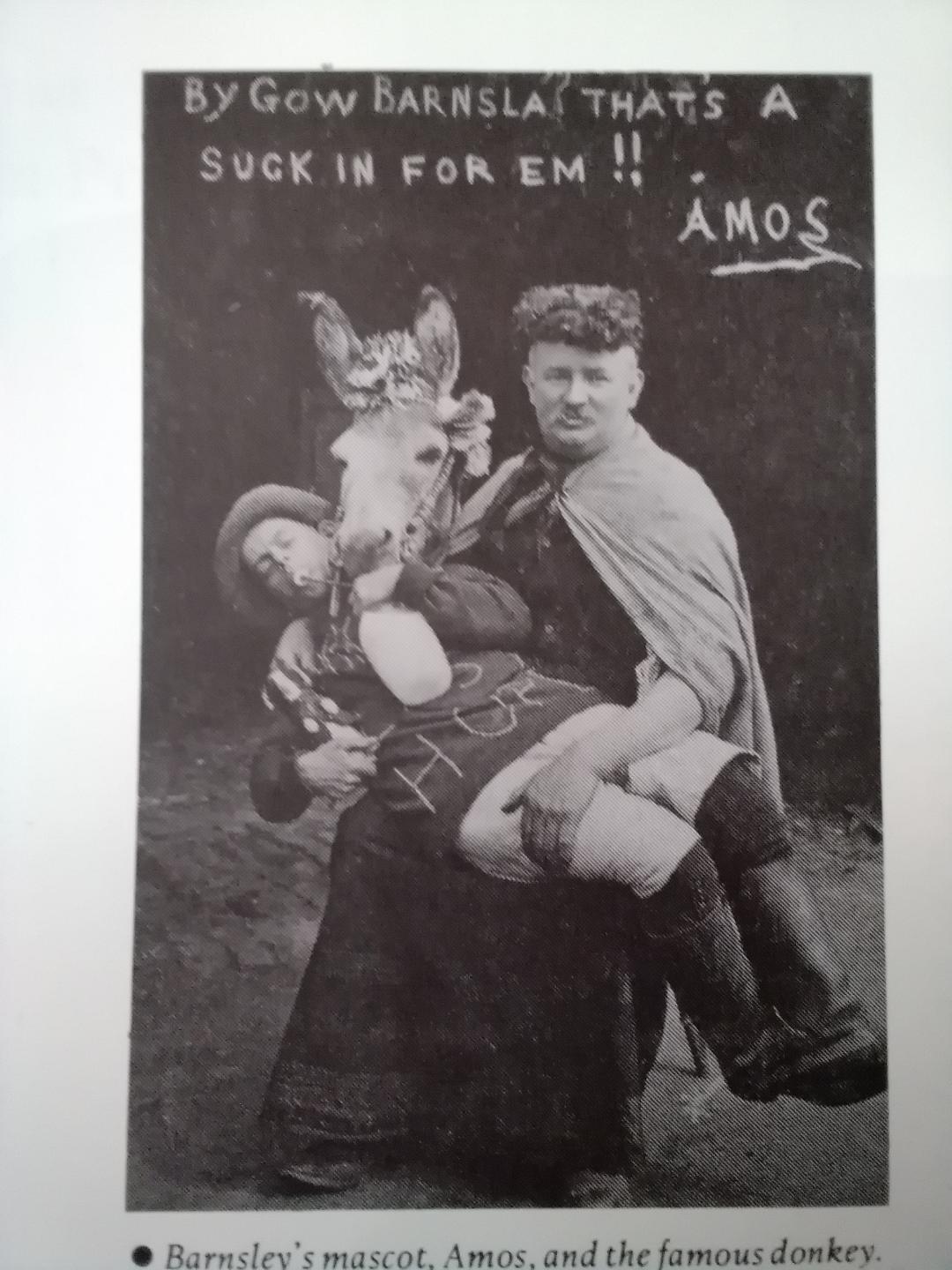 Rumour has it that the donkey was brought back from Blackpool during the Reds' FA Cup run in 1910, where they eventually made the final before a replay loss to Newcastle United.
Barnsley went on to lift the cup two years later after a replay against West Bromwich Albion.
Amos, standing at less than five foot, was even smaller than jockey size and played on this by riding the donkey in full gear and often in a large flowery hat on feast days as well as match days.
Amos lived with Kevin's great grandparents in Shaftesbury Street, Stairfoot.
He had been born at Measbro Dyke in 1883 and his real name was James William Riley, son of the unmarried Alice.
By 1901, and on the census return of that year, he was already known as Amos and was living with his mum and grandfather in Monk Bretton.
Amos had been taken in by Kevin's great grandparents William and Ellen a decade on following the death of his relations.
He worked at Rylands Glassworks (which later became Beatson Clark).
Kevin added: "Amos was a 'character', was short – under five feet tall, had very little hair, was almost deaf in his right ear but totally deaf in his left ear.
"He was comical, liked a beer and a laugh, and is still fondly remembered in the area by a handful of people still alive.
"He is still fondly remembered as an interesting character in the history of Stairfoot and maybe an integral part of Barnsley Football club's history.
"He is seen in pictures and postcards usually wearing a flower hat and carrying an umbrella and maybe sitting on the donkey.
"I hope Amos will once and for all be remembered as the man who made a little local history, and not a donkey misinterpreted for decades as Amos Riley.
"Despite his quirks, Amos really should have his due recognition. Afterall, whoever has heard of a donkey with a surname?"
Amos's death in October 1937 was a tragic one.
He was taking a bucket of chips to the shop ran by relation Nellie Pape and was fatally struck by a Yorkshire Traction bus heading down Barnsley road towards the Stairfoot bridges and nearing the (then) globe Tea shop.
Kevin takes up the story: "Amos came out from the top of Gordon Street, was almost halfway across the road and didn't hear the honking of the bus horn or notice its headlights.
"It was also raining 'very 'heavily' at the time and there was 'very poor visibility'.
"It is noted the bus driver did try to swerve. A verdict of 'misadventure' was found with no fault of the driver."