THE wife of a man who suffers with a rare condition - which affects just one in a million people - has been nominated for a Proud of Barnsley award in the 'Carer of the Year' category.
Ian Rawlins, 59, of Calverley Gardens, Wombwell, has suffered with stiff-person syndrome (SPS) - a rare, progressive syndrome that attacks the nervous system, brain and spinal cord - long before he was diagnosed at Royal Hallamshire Hospital in Sheffield three years ago.
His wife, Andrea, told the Chronicle that Ian had endured a full body spasm for 13 hours just after Christmas, which led to an urgent 999 call being made and an ambulance crew being dispatched.
On their arrival, the crew had never heard of the condition and a second ambulance was called.
After being rushed to Barnsley Hospital, Ian was seen by a consultant - but she too had to contact other hospitals to ask how to proceed, according to Andrea.
"Ian has had some really bad episodes - the muscle spasms are horrifying," she said.
"They twist and contort the body beyond human comprehension whilst squeezing the lungs, causing the diaphragm to spasm and push upwards into the lungs and compressing and throttling the windpipe.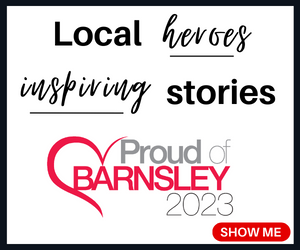 "We've had episodes recently where he's been trapped in the kitchen doorway so no-one can get in or out to assist and help him.
"We've had to literally rearrange all the household furniture just to try and get him to safety - it's awful.
"You just have to stand by helplessly - there's not a great deal you can do besides just be there for him which I obviously am.
"He's had some infusions that are used for patients with lymphoma and leukaemia - he doesn't have those things, luckily, but it's been his latest line of treatment to date."
Speaking about the nomination, Andrea added: "I am absolutely flabbergasted that I have kindly been put forward for an award at this year's Proud of Barnsley event.
"Some of the nurses up at Barnsley Hospital were amazing - myself and Ian were only up there last week when Ian had an episode and required medical attention.
"I dropped them a card off on Wednesday morning to say thank you for everything they've done - the condition is so rare so there isn't enough support for those who have to suffer with SPS on a regular basis.
"But the staff really have been great - it's both an honour and an unexpected privilege to have been nominated and to give a voice to the people who face the challenges of dealing with such a horrendous condition.
"SPS needs so much research and funding, yet the disease is virtually unheard of."