A MAN who ran two miles every day last month - raising more than £2,000 in the process - to buy new chairs at his grandad's care home has been nominated for a Proud of Barnsley award.
Jordan Zaszlos, 37, from Gilroyd, ran two miles every day last month to raise around £1,000 for new seats at Rosehill Care Home.
His grandad, Peter, arrived at the home in November with Alzheimer's and Jordan said the care he has received is worthy of some recognition.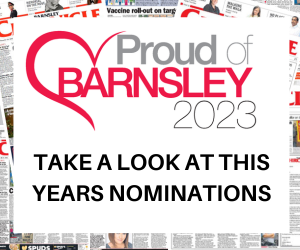 He told the Chronicle: "My nannan was getting poorly looking after him as he's in the later stages of Alzheimer's so he was taken to the home just before Christmas.
"The staff there are absolutely fantastic but the building itself is getting a bit tired.
"Where the residents sit in the lounge, the chairs are a bit uncomfortable."
After completing the challenge at the end of March, Jordan told the Chronicle he was 'glad' it was over - but was pleased to smash his target.
"It was challenging, especially because on a couple of days it was snowing and then icy," he added.
"It was really tough on my legs.
"But it was worth it because I managed to raise £1,700 on the fundraising page and then sponsorship forms from around the town made it up to £2,200.
"I'm over the moon and thrilled with that.
"The home is currently being refurbished at the minute so I've spoken with them and once it's all finished I'll purchase the chairs.
"Now we've got some extra money I'll be getting six better chairs and organising an entertainment day - probably on a Sunday - for people at the home."
Jordan's fundraising doesn't stop there, though.
He's already onto his next challenge by hosting a charity football game in honour of Barnsley Hospice later this year.
"I play seven-a-side on a Tuesday night and we were talking about doing some fundraising," he said.
"We've managed to get it set up for July 8 at the Dodworth Miners' Welfare pitch at 12pm.
"We'll be raising money for Barnsley Hospice and they're going to be sending some fundraisers down, too."
After hearing of his nomination in the Fundraiser of the Year category in this year's Proud of Barnsley awards, Jordan added: "It's absolutely brilliant to be nominated,"
"I'm completely shocked but it's definitely a good thing."