A YOUNGSTER who went to school as normal before being struck down by a virus which left her paralysed within minutes is set to scale one of the UK's highest mountains for charity.
Maisie Graham, who was 15 when she collapsed at Horizon Community College after complaining of backache and a tingling sensation in her legs, was diagnosed with transverse myelitis (TM) a rare neurological disorder caused by inflammation of the spinal chord.
Maisie, who was otherwise fit and healthy, had been waiting to go into assembly when she felt a sharp, shooting pain in her back but within ten minutes was doubled up in pain and struggling to breathe.
She collapsed on the floor of the matron's office and was rushed to Barnsley Hospital where doctors believed she had been injured at rugby practice the night before.
Having been transferred to Sheffield Children's Hospital, transverse myelitis was diagnosed, and Maisie has been wheelchair-bound ever since.
Now 23, Maisie, of Keresforth Road, Dodworth, is set to be pushed and carried up Yr Wyddfa, formally Snowdon, in Wales later this year to raise cash for Back Up, a charity she credits with helping her and her family in recent years.
Maisie said: "Laying in hospital, being told I had a spinal cord injury at 15 years old, turned my world upside down I couldn't imagine what my life was going to be like.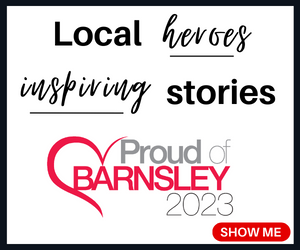 "I felt very alone and misunderstood until a member of the hospital introduced me to Back Up.
"They help people regain independence, confidence and the skills to allow people to live life to the full no matter their situation.
"Being an active person prior to my injury I couldn't imagine being able to do the activities I once did, however getting in touch with the charity liberated me to do so.
"They offer a range of courses from outdoor activities, wheelchair skills, city skills, back-to-work independence and much more, even offering services to family members and friends of those affected by a spinal cord injury.
"I am so lucky to have the great support system I have around me already, my family and friends have been amazing in helping me achieve my goals, yet Back Up has introduced me to other people in my situation who I can relate to and has helped me in ways I could never imagine.
"I now volunteer for the charity, helping others the way I was helped in my time of need.
"My brilliant family and friends are going to help me get to the top of Yr Wyddfa, formally Snowdon.
"They will be pushing, pulling and lifting me and my chair up the mountain, to highlight that anything is possible with the right support.
"As a thank you we are raising money for Back Up they don't get the credit they deserve, they are life-changing for people, and I owe them a lot for the help they've given me."
At the time of the shock diagnosis, generous Barnsley companies dug deep and transformed Maisie's family's house in a DIY SOS-style makeover, making it more adaptable and easier for her to move around after an initial seven-month stay in hospital.
She went on to study art at Nottingham Trent University and her mum, Michelle, paid tribute to her daughter's courage.
She added: "Maisie went through such a life-changing thing and she's coped with everything so well she's an inspiration to us all and we're looking forward to helping her up the mountain.
"It'll be a tough, emotional day but little by little we'll all make sure we get her to the very top whether it's by pushing her wheelchair or lifting her when needed.
"The charity's close to Maisie's heart and ours as they've helped her so much over the years.
"Hopefully we'll be able to raise as much money for them as possible."