A BARNSLEY dad who was told by doctors he has just months to live after his cancer came back with a 'vengeance' - weeks after having his leg amputated - is raising funds to make memories with his one-year-old son.
Matt Heald, 37, from Monk Bretton, is perhaps best-known for his incredible artwork and designs which Hollywood A-listers have collected.
Since he started creating his designs during lockdown, he's racked up thousands of admirers on social media - including Samuel L Jackson.
But recent revelations have shocked Matt and his family to their core.
He told the Chronicle: "Back in February I was diagnosed with a rare and aggressive form of cancer called synovial sarcoma.
"The doctors at the time told me the only way to save my life was to amputate my leg.
"It was a daunting decision but I jumped at it to be around for my partner Claire and my baby son Ezra.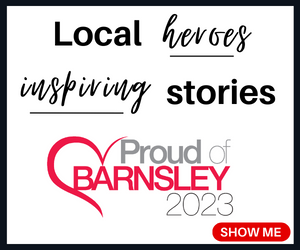 "After three gruelling months of trying to learn to walk again, side by side with Ez - who beat me to walking by two days - I was told that I should have some adjuvant chemotherapy to prevent it coming back.
"I went for it and it seriously beat me and ground me down, resulting in almost dying from sepsis."
Matt was planning to tell health professionals that he wanted to quit chemotherapy due to the toll it was having on him - but instead he received news which left his family and friends heartbroken.
"In my follow-up meeting with the oncologist, I was going to tell him that I wanted to quit the chemo but unfortunately that meeting didn't go as planned," he added.
"A routine CT scan showed that not only was the cancer back with a vengeance, there were a dozen inoperable and incurable tumours on my lungs.
"Now the only option left is to go back in with the chemotherapy for another 15 weeks to try and give me more time.
"Without the chemo I have been told I have between three and six months to live.
"I have told myself I have to do this.
"I have to try and be around for my family and do everything I can to provide for them."
In a bid to try and make as many memories with his one-year-old son as possible, as well as providing for his family long after he's gone.
"Many of my family and friends have all asked to help out in whatever way they can so I decided the best thing to do is set up this fundraiser," Matt said.
"My intentions for the funds raised are three-fold.
"Although I might not be around for Ez as he grows up, I want to be able to provide for him and Claire like I would have if I had been here.
"Firstly, the money will be used to create memories with my family before I pass, but secondly, to help Ezra have the best start in life, something a dad really wants for his kid.
"Thirdly and finally, depending on the amount fundraised, if I successfully come through the chemo and have the strength to pursue other treatment, then some of the money raised could be used to live longer using treatments that are outside the scope of the NHS.
"Ultimately, I think one of the things that I am struggling to come to grips with is missing the things a dad would never want to miss.
"From not being around for birthdays and Christmases, or even that first day of school to one day maybe graduating from university.
"I want to be there every step of the way to support Ez and Claire, even if it is just in spirit."
More than £15,000 has already been raised for Matt, who is currently undergoing chemotherapy - and he says he is beyond overwhelmed with the support he has already received.
"Claire is the love of my life and I want her and our beautiful little boy to have the best opportunities without struggling to get by," he added.
"Without a doubt your generosity and kindness will allow me to be present, at least financially, as Ez, guided by Claire, is helped by family and friends through times when his dad isn't around for the journey anymore.
"I set it live on Thursday on my way to the hospital to begin chemo again.
"The love and support has really helped me get through this current cycle knowing that Ez and Claire will be ok no matter what.
"My YouTube and Twitch clients are fully behind me and their communities are too.
"I never truly realised the number of lives my art and logos have reached over the years until now.
"And friends and family have been messaging me to keep my spirits up throughout the whole journey."