I am indebted to Neil at Best Behaviour K9 dog training for giving me a life which sounds like an exaggeration but it's not. I took on a rescue dog and I can understand why so many dogs are returned to the shelters within a few weeks.
'Buyers remorse' can set in when you find out just how much the dog that is supposed to fit seamlessly in with you, doesn't. Don't get me wrong, I had a few days of 'what have I done?' but I knew that would happen. I was determined that the changes a new dog brought would be ironed out.
Our rescue was mad on a lead, she was reactive to our lovely cats. Let me just say that the home consultation was the best money I've paid for anything in years. Within the session, my manic new dog was walking calm as a cucumber on a loose lead. And she was laying at my feet while I was holding my cat in my arms after she'd had a sniff at him, tried for further investigation, told she couldn't and went off bored. And instead of bounding out of an open door, I learned how to make her wait until I went out first.
I could have cried. It has made all the difference and I only wish that people who take on rescue dogs don't give up too easily. Don't give up at the first hurdle if you adopt an animal. It's as strange for them as it is for you and you both need to adjust and boundaries have to be set. The reward for a bit of hard work is worth it.
I had a proper weep when I heard that Michael Parkinson had died last week. More so because I met him last year – finally, because I'd missed him twice before – and he was worth the wait.
We sat with each other for ages at a Yorkshire Society event and I found him the most charming company. It was a pinch me moment knowing that I was sitting chatting with the man who had interviewed so many of my heroes. I didn't want to let him go and I think he was quite happy sitting with us which was lovely, but I know a crowd was gathering who were desperate for me to share him and so it was only fair I shift.
I was the entertainment for the night and I was doing a poem about Yorkshire and I'd written an extra verse featuring him when I knew he'd be there. Apparently he loved it so I'm glad I made the effort. He left early, but he came looking for me at the table at the back corner to say goodbye and that made my evening, even more than the award I was given on the night.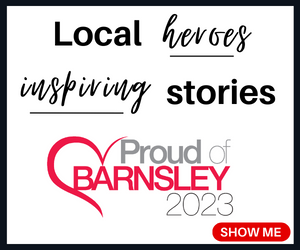 Parky would never have been what he became had he stayed in Barnsley, but he never lost his accent, he never tried to London-ise himself. He remained a northerner through and through, a miner's son. There are few greater examples of what you can become starting off with no connections in the industry you want to join, not letting your background and humble beginnings hold you back – especially in an era when a provincial accent could be a proper hindrance - and being determined to be the best at what you do, because he really was. Goodnight, Sir Michael. You were a star.
Maybe if Barnsley's Beth England had been on from the start of 'that match' the result might have been better. Just saying…