Selby-Hornsea
NONE of us leapt out of bed to get this one underway.
We wanted to get an earlier start in and with that in mind we had a quick breakfast of pancakes with maple syrup. It took me a while to get going properly and the terrain heading out of Selby did not help matters with a boggy area to navigate in the farmlands immediately east of the town. Heavy weather makes for heavy weather for hybrid tyres.
Fortunately we were soon meandering through the roads near Howden, we stumble across a brilliant 'honesty cafe' at The Old School at Blacktoft where we enjoy a cuppa and donate.
The group seem to naturally take turns on the front and move up and down the 'peloton' to ensure you're frequently riding alongside and chatting with someone different.
These quiet roads also offer a chance for reflection. I think about how the landscape has altered but also how similar it is alongside the big rivers like the Mersey, Ouse and Humber.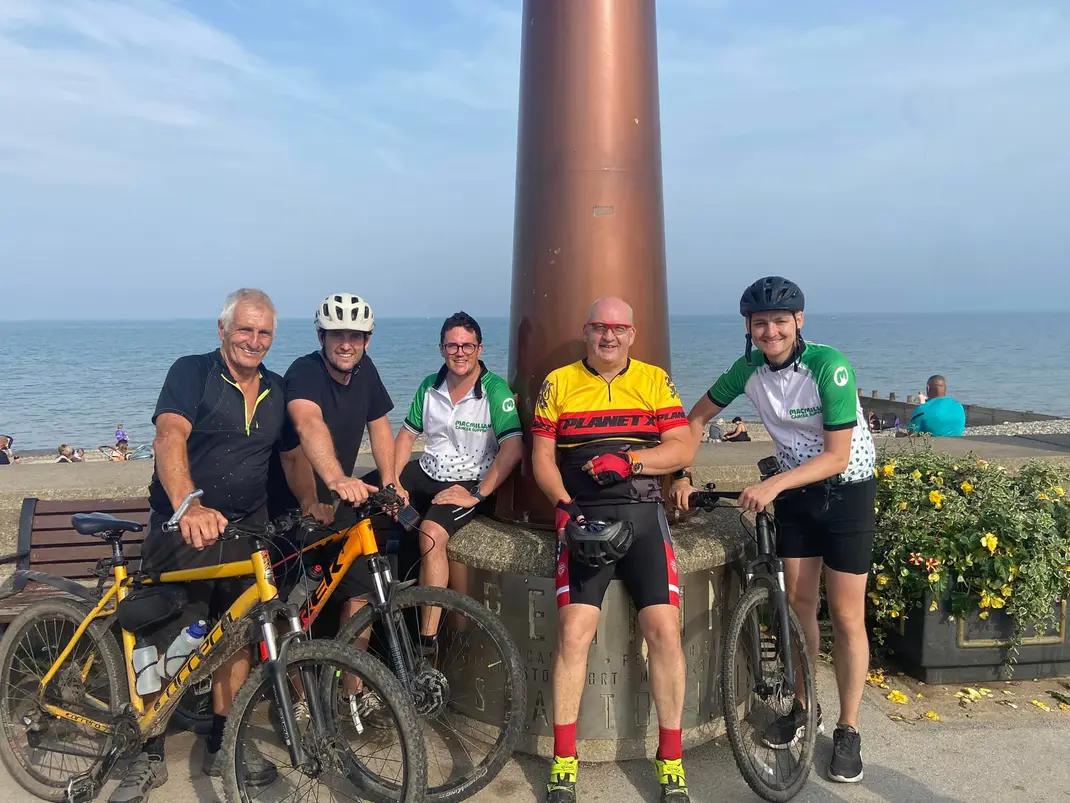 We are fortunate enough to live on the TPT, a great resource on our doorstep, and it genuinely takes you closer to nature. We have seen herons, buzzards, deer and even a shrew. There is, amusingly, a kestrel flying alongside us for some time as we head closer to the coast. A nice omen for the Barnsley lads among us.
We have lunch in North Ferriby, roughly halfway to our final destination and all have types of burger. I think we deserve it. I also start covertly texting Matt's wife to let her know about an arrival time so she can surprise him with their two sons.
Seeing the Humber Bridge is a very obvious sign we are getting closer and I'm sure a big relief to all of us.
I am feeling much better than I thought I would be but have real fatigue in my legs. I wanted to be fit enough to do this challenge without struggling, so I'm proud that I have managed to get in the condition to make this memorable rather than an ordeal.
My mind starts to plot what challenge I can take on next. This has been on the agenda for so long that completing it means there is a bit of melancholy lingering and I know I will have to come up with something new to refocus on. But probably not for a while.
As we enter Hull itself I cannot help but think of my dad again. His mum had been from the city and I know he had treasured memories of visiting his grandparents here, going to the football matches and the seaside. We do go near the Sculcoates area of the city where the Ancient and Lewis side of my family lived.
Hull, aesthetically and probably like most cities, changes with every ten pedal strokes. The Guildhall is a stunning building and we get a good view of the Britannia statue above it by heading down Alfred Gelder Street into the Old Town.
I think about how many of my ancestors would have gone through these same old streets. It's amazing where your mind wanders to when you're cycling this distance and, above all, it helps the miles pass by unnoticed.
We head north into the outskirts and through several housing estates that the TPT weaves through. It soon becomes apparent we are getting closer to the coast, and thus the end, as the headwind we have been facing most of the day has more of a chill and salt to it than it had previously.
One last breather gives me a chance to send an update on our estimated time of arrival and a 'well done' sign for our arrival is prepared.
We inadvertently finish how we started... by getting lost. You would think the signage for the TPT would be at its best at both extremities of it but that's not the case and a road closure makes it even more confusing.
But we get going again and are greeted with a final downhill to the beach and a big welcome party. None of us will ever know what it feels like to be Jonas Vingegaard and this has hardly been the Tour de France but there is a real sense of achievement and camaraderie at the end. It's also a perfect setting, on a charming, typical British seafront, to finish.
There is time for an ice cream and a doughnut before heading home, relieved, aching and proud.
Our efforts have managed to raise almost £4,000 in fundraising for Macmillan Cancer Support and Dementia UK.
Komoot difficulty rating: Expert.
Ride in numbers:
Kilometres covered: 349.85.
Counties passed through: Seven.
Elevation gain: 1,459m.
Estimated calories burned: 10.809.
Moving time: 22 hours two minutes.
Read the first segment of Ashley's story here
Read the second segment of Ashley's story here
Read the third segment of Ashley's story here