THE family of a disabled youngster have been overwhelmed by support from their neighbours who have helped raise £4,000 despite the pandemic.
Logan Smith, of Worsbrough Road, Birdwell, was born with hydrocephalus, a condition that causes a build-up of fluid in the brain, which has stunted much of his development.
The three-year-old spent three months in hospital when he was born where his mum, Cody Hepple, was told that Logan may 'not make it'.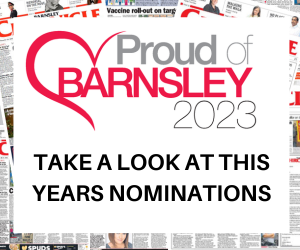 The youngster was diagnosed with global development delay and visual impairment.
He uses a wheelchair full-time because he cannot sit or hold his head up and has trouble eating.
Last year, Cody launched an online fundraiser to raise £50,000 to help get life-changing equipment for her son as well as urgent private therapy sessions.
Following three national lockdowns amid the virus, Cody expected donations to dry up.
"We were really worried that fundraising would take a hit during the pandemic - we completely understand that it's tough for everyone at the minute," said Cody.
"It has been noticeably slower than usual, but people's kindness has far outweighed this.
"We moved to Birdwell around a year ago and were completely new to the area - but we've been shocked how welcoming everyone has been.
"With us mainly relying on online support, it's been tricky. But the people of Birdwell have gone above and beyond for us.
"Despite our worries, we've raised around £4,000 so far which is absolutely amazing. Dan Gostling, from Birdwell, raised £600 in a week, as well as Spare Tyre Runners and the team at Gist in Barnsley who have donated to us.
"We can't thank Julie Phillips enough for lighting up Birdwell at Christmas-time and spreading happiness at this tough time while working full-time up at Barnsley Hospital and cleaning up our village with the clean team.
"We have some real heroes in Birdwell.
"We have an amazing support system for Logan and the Birdwell community have really embraced us."
Cody aims to raise £50,000 for key equipment, home renovations and physiotherapy that she believed will help improve Logan's quality of life - but these plans have had to be delayed.
"The reason we set up the page was to financially help us adapt our current home into an accessible downstairs area for Logan due to his wheelchair.
"We've moved house because of lack of space, but we're still limited with how much Logan can move around.
"It's the uncertainty of not knowing what's going to happen for Logan in the future. It's really worrying."
Cody is now hoping that Logan can attend private therapy sessions once the pandemic eases to improve his quality of life.
"Logan's doing well at the moment. He had caught a bug just before Christmas that worried us quite a lot.
"Every day he's getting stronger in himself which has been wonderful.
"Thanks to the fundraiser, we've been able to have some private therapy sessions but with what's going on at the moment, we are unable to go forward with any more .
"We can't thank people enough for their support, it means the world to us that people are thinking of Logan."