RESIDENTS in an area blighted by flooding are breathing a big sigh of relief after escaping serious problems during the latest threat to their properties.
A leading official from the Low Valley Flood Group has praised the help received from Barnsley Council as Storm Christoph hit this week, raising the level of the River Dove to an alarming 1.6m.
Linda Wilding, secretary of the group, believes past experience helped both the council and residents deal with Wednesday's crisis, when there were real fears the river would burst its banks.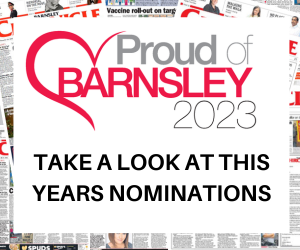 Flood group volunteers were able to distribute 1,000 inflatable sandbags as the area braced itself for the deluge.
They were purchased with the help of a £2,500 grant from Darfield Ward Alliance, while the group itself has raised more than £3,500 since its formation.
Residents whose homes were affected by the floods of 2007, 2019 and last year took priority in receiving the inflatable sandbags, which dry faster than traditional ones after use and are more easily stored.
Barnsley Council also provided sandbags and help with flood preparations.
"It has obviously been a worrying time for many residents who know only too well the misery caused by flooding," said Linda.
"But at least we had more knowledge of what action to take in advance, and being able to hand out the inflatable sandbags gave us a headstart in defending our homes.
"The community worked together and a lot of people chipped in to try to make sure help got to where it was most needed, such as those who were unable to collect the sandbags themselves.
"And I have to say the council's response and help was excellent.
"The last time we were flooded, the river level was 1.7m, so we only just got away with it this time."
Residents have also been boosted by the announcement of government grants of up to £5,000 per household to help protect against flooding.
Made available through local authorities, the grants cover installing fittings such as flood doors and materials which increase resistance to damage from water.
However, members were disheartened after other sandbags were stolen.
The bags were dropped off on Station Road and Stonyford Road but were then taken by a driver in a white van, who only left a small amount for local residents.
Sue Bradshaw, chairwoman of the group, added: "We've been trying to get ahead of this storm as best we can.
"CCTV showed a driver in a white van pull up and take them all on Tuesday night, leaving us with hardly any in reserve.
"We've been keeping our eyes peeled and staying extremely vigilant with monitoring the water levels.
"The risk of flooding in Low Valley can be devastating so we want to keep each other safe and have the best chance possible of staying dry."
While clogged-up gullies - singled out as a causing factor of previous flooding - were cleaned by an army of council staff this week, improvement schemes outlined by the Chronicle last week to shore-up Barnsley's defences could be in jeopardy due to a lack of funding.
Barnsley Central MP Dan Jarvis said: "The impact of further flooding on those who have already suffered so much is unimaginable - that's why we're doing everything we can to upgrade our flood defences and improve our flood resilience.
"It goes beyond material and economic damage, it carries a human cost of lives disrupted, homes abandoned, futures made uncertain and full of hardship.
"There are still dozens of families who have not been able to return to their homes and are living in temporary accommodation following the most recent floods.
"We need the government to work with us to make it happen."