THE last surviving member of a Second World War parachute squadron - hailed as a 'Barnsley legend' by a local MP - died on Sunday aged 101.
Tom Hicks was born on August 14, 1919 in Nuneaton and moved to Eastend Crescent, Royston, when he was ten.
He volunteered for service in 1939, signing up for the First Parachute Squadron of the Royal Engineers (RE) and he served in the army until the end of the Second World War in 1945.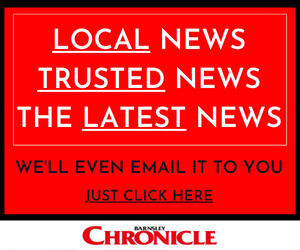 On September 17, 1944, Tom and his squadron parachuted into Arnhem, Netherlands, where he was wounded three times and taken as a war prisoner where he was forced to work in a lead mine.
Tom left the army the following year and returned to Royston where he married his wife, Sadie, and spent the rest of his career as a steam engine driver before he retired aged 63.
His hobbies included playing tennis and attending jazz clubs, and Tom was active up until six-months ago.
Tom's son, Chris, told the Chronicle: "My dad was a very popular man, very sociable and personable but he was also quiet - he wasn't in your face.
"He was still playing tennis up until his 100th birthday but he retired when he realised that his playing days were over," he said.
"He used to go to Barnsley Jazz Club and he enjoyed socials there.
"Having turned 101 last year he was doing well until about six months ago as he was still growing vegetables and walking, but I don't think Covid did him any good as he couldn't come out and see people."
Tom, who had been battling bowel cancer, leaves behind his two sons Chris, 68, and Norman, 72, five grandchildren and seven great-grandchildren.
His funeral is set to take place on February 25.