THE owners of a Carlton company are offering a £10,000 reward for information after an arson attack resulted in thousands in damage - with two buses and an office being burnt 'to a crisp'.
AH Hardwick, a bus salvage and breaking service on Shaw Lane, was the subject of the attack on Saturday evening which saw multiple fire crews from across the borough attempt to tackle the blaze - but Luke Hardwick, who owns the business with his dad, admitted it could have been much worse.
Luke, 31, from Cudworth, told the Chronicle: "If this had happened just a month earlier there would have been a man in a caravan on the site just behind where the buses were set on fire.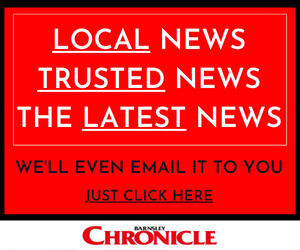 "People just think they're setting fire to a bus but someone could have died - it's really dangerous.
"It's lucky because in caravans they have gas bottles so it would have gone off - in the CCTV footage you can see it go from nothing to a huge fire in no time. Petrol must have been used because it set a bus on fire - I've been ringing around petrol stations to see if they've had anyone there at the time as it's a serious crime."
South Yorkshire Police believe an igniting fluid was thrown at the buses which caused the blaze and the subsequent £10,000 worth of damage.
Fire crews from Cudworth, Barnsley and Tankersley fire stations were called to tackle the fire at 7.54pm on Saturday night, not leaving until 12.49am on Sunday morning - the firefighters deemed that the fire had been started deliberately.
Luke arrived at the scene at the same time as the fire engines and immediately jumped in the forklift to ensure that no more damage could be caused to vehicles.
"I shot straight down and, as I pulled up to the gates, so did the fire engine," he added.
"This is mine and my dad's business and he's had it in excess of 30 years - it's the first time this has happened in our own yard and we don't know why this has been done.
"We need to find out who has done this so we're offering £10,000 if people can give us names."
A spokesperson for South Yorkshire Police added: "An investigation has started following reports of arson at a property on Shaw Lane in Barnsley.
"Officers were called at 8.14pm on January 23 alongside South Yorkshire Fire and Rescue.
"Damage was caused to two buses and a cabin.( "It is believed that a fire was intentionally started and enquiries are ongoing to locate those responsible.
"Anyone with information is asked to call 101 quoting incident number 838 of January 23, 2021."