CANCER-BATTLING residents in Barnsley whose income streams have been decimated due to several spells of lockdown and rigorous treatment schedules have been given vital grants totalling more than £300,000 since the pandemic struck, the Chronicle can reveal.
Between July and September last year, Macmillan's welfare rights staff supported 115 new clients in the borough and helped cash-strapped sufferers gain a total of £347,104 in benefits they did not know they were entitled to.
This included more than £315,000 in new or increased income for people diagnosed with cancer, and one-off payments through charitable grants to help with things like heating, clothes and transport to and from hospitals.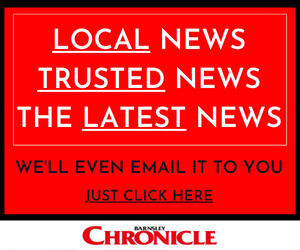 The average financial gain was £2,900 per patient - figures which have been lauded as 'lifesaving' in a period where foodbank and benefit reliance have both rocketed.
The long-established Macmillan service in Barnsley has been providing people with financial support and assistance since 2007.
Its team-of-two is made up of Julie Coles and Julie Horsfield, who both live in Barnsley, and the pair have been praised having responded quickly to the costly national lockdown last March.
Ms Horsfield said: "We know the area and we know the people - it was more important than ever for us to carry on through the pandemic as there's never been a worse time to be diagnosed with cancer.
"We can be that reassuring contact for people, often they may call us sitting in the hospital car park after they've been diagnosed.
"They're confused and feel totally lost, we can be that hand to hold and point them in the right direction.
"Being diagnosed with cancer can have a significant impact on a person's financial situation.
"Macmillan estimate that 83 per cent of people with cancer are, on average, £570 a month worse off as a result of their diagnosis.
"This is often caused by a reduction in income due to people being unable to work, further compounded by an increase in outgoings due to the additional costs cancer can bring, such as the cost of travelling to hospital for regular treatments.
"With finances already stretched, these additional costs can push households to breaking point, or mean that people must go without essential items."
The team - funded by the charity and Barnsley Council - believe more people are likely to need urgent financial support to help cover the cost of cancer.
It comes after cancer patients in the town were revealed to be missing out on vital appointments due to the ongoing coronavirus crisis - with shocking figures revealing almost 10,000 women in the town are awaiting screenings.
An average of 700 people die from cancer in Barnsley every year and local MPs have called for urgent action to address the backlog - before it's too late.
Ms Coles added: "We're with people from that moment of diagnosis through to return to work or end of life, and bereavement support for families.
"We'd encourage anyone diagnosed with cancer in Barnsley to give us a call, you may be in full-time employment with sick pay, but your circumstances may change."
Dan Jarvis, MP for Barnsley Central, urged the government to support the town's patients.
He said: "One of the most worrying aspects of the coronavirus pandemic is the impact on cancer care, with an estimated 100,000 people in the UK affected by the backlog in cancer services.
"While essential cancer treatments have continued throughout the pandemic, it is clear that the pressures of Covid on our NHS have had a significant knock-on effect.
"I know from my own experience the devastation cancer causes to families, which is why the government need a laser-like focus on ensuring that our cancer care services are supported to clear this backlog.
"I am in contact with the NHS every week and they are working incredibly hard to address this."
Anyone diagnosed with cancer in Barnsley can contact the team by emailing adviceservices@barnsley.gov.uk or calling 07809 103254 or 07741 168743.