A WOMAN who suffered 13 months of terror at the hands of her ex-husband has won the backing of her MP in her campaign for tougher sentences for stalkers.
Claire Hinchcliffe, of Wombwell, says she was left traumatised by the harassment carried out by Christopher Malcolm Guy, who continued to stalk her after the breakdown of their relationship.
After months of torment, he pleaded guilty to stalking at Sheffield Magistrates' Court and was given a 12-month restraining order.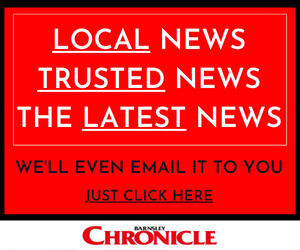 But Claire says the sentence is not tough enough - and wants to share her trauma with others in the hope she can campaign for a change in the law.
"After I left him in January last year, he tracked me back to my mum's where I told him I wanted nothing more to do with him," the 48-year-old told the Chronicle.
"He then started denting and scratching my car. Since then, he has slashed 32 car tyres between me, my mum and two daughters.
"One of the most terrifying moments was when he put expanding foam into the engine of our car.
"He followed me to my work in Huddersfield, and when I returned home a brick had been thrown through our kitchen window.
"After multiple reports to the police, officers told me it was unsafe to stay where I was, and I was placed in police protection with my mum.
"He was finally arrested after he was seen standing on the driveway of my safe house after tracking me down."
Claire thought her torment was over when he was arrested - but believes she will be looking over her shoulder for the rest of her life.
"He was given this banning order but there's always a possibility he could harass me again.
"I hardly sleep with fear of what he could do to my family, I'm living in fear constantly and I'll never escape.
"It feels like the courts have let him off scot-free whilst I'm the one living with the consequences.
"I never had my day in court to tell my story - he pleaded guilty and walked away with open opportunity to do this to someone else.
"I've been left with massive anxiety at all times. I'm determined that my experience will be used to help other people in my position.
"But more than anything I have a campaign to bring tougher punishments for stalkers. This is so important to protect victims of this sort of abuse.
"They can't keep getting away with it. Fly-tippers get harsher punishments than this."
In a bid to raise awareness, she wrote to her local MP, Stephanie Peacock, to help get her campaign off the ground.
Stephanie, who represents Barnsley East, said: "Thousands of people up and down the country face very real trauma from being stalked.
"The reality is that this form of abuse can have extremely serious consequences, and in the worst-case scenario can lead to individuals losing their lives.
"I have arranged to meet with Claire to discuss her campaign further and have asked a question in Parliament on what actions the government are currently taking on this issue.
"Both actions further highlight my belief that we must ensure that robust legislation is in place to take strong action against stalkers and to protect victims, and their families, from further harm."