ONE of Barnsley Football Club's most exciting prospects is remaining positive after being diagnosed with a rare form of cancer and his dad - Reds legend Bobby Hassell - says he's incredibly grateful for the doctors who saved his life.
Bayley Hassell, 17, has been part of the Oakwell academy since 2016 and is one of the most highly thought of midfielders at the club.
The teen had been suffering with a cough and a shortness of breath for more than a month before he collapsed in his home in Dodworth and was taken to hospital.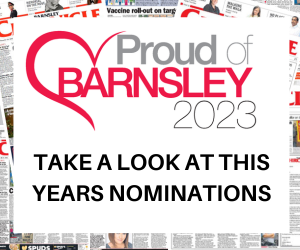 His dad, who played 299 times for the Reds, told the Chronicle: "Bayley had been struggling with a cough and breathlessness but he wasn't able to go into the hospital because they thought he had Covid.
"He collapsed on a Thursday and after a bit of a farce with 111 who kept saying that he had Covid - we knew he hadn't because he'd had ten negative tests - we spoke to the club doctor and took him to A and E.
"The doctors at Barnsley Hospital saved his life.
"Bayley's heart rate was at 120 and it's usually at 45 to 50 when resting, they did a couple of tests and it went up to 200 - after an X-ray they found a mass around his chest and a lot of fluid around his heart.
"He then went for a CT scan and that's when we got the terrible news - he had a massive tumour in his chest and abdominals and the doctors told us it was T-cell lymphoma cancer."
Since the heartbreaking news, Bayley has been placed on a two-year chemotherapy programme - and Bobby is upbeat about recent developments.
"Bayley is in Sheffield Royal Hallamshire Hospital now and he started his steroids straight away - the tumours had reduced by 35 per cent before his chemo even started which is good news," he added.
"It's going to be a two-year chemotherapy programme and it's an 80 per cent success rate in terms of a full recovery, which is positive news.
"It's a very rare and aggressive form of cancer and if it would have been left for three or four more days the doctors say he would have died."
Bayley bravely took to social media to share what had happened and has since received an outpour of support from both the footballing world and the general public.
"It was up to Bayley whether or not news got out and after he posted on social media he's had incredible support from the footballing world - he's had messages from England internationals and it's really lifted him," Bobby said.
"The footballing world often gets a lot of stick but so many people have been getting in touch and they didn't need to do that.
"I also want to thank the Barnsley public for all their support - they've been absolutely fantastic."
Bayley's footballing career will be put on hold for the time being, but Bobby is urging parents to push doctors to see their children if they're showing signs of illness.
"The reality is that he can't play football for the next two or three years and it'll be very difficult for him to come back," he added.
"He's got two years of chemotherapy and then it'll take about 15 months to get back to full fitness - for now he's going to have to retire but it's not something we're really thinking about.
"He played a game against Hull City three or four weeks ago and it's the best game he's had - at that point he would have had cancer and you'd never have thought it.
"I encourage parents to push doctors to see them if they're showing signs of illness."
Barnsley's first team donned supportive jackets on Saturday against Sheffield Wednesday with the phrase 'Keep Fighting Bayley', and Barnsley Central MP Dan Jarvis also sent his best wishes to the young midfielder.
Dan said: "I was deeply concerned to hear of Bayley's diagnosis - he is an incredibly popular young man with a promising future ahead of him with the Reds' youth side.
"I send Bayley and the Hassell family my very best and most positive wishes for his recovery and I know that the whole of Barnsley is right behind him in his fight against this awful disease."