Bernie Clifton, most known for his entertainment gig with Oswald the Ostrich, spoke to reporter Jack Tolson about the club scene in Barnsley, and how it became a 'Mecca' for all who wanted to 'make it'...

WITH fewer people walking on the streets of Barnsley this last year thanks to coronavirus restrictions, it's hard to imagine what a rammed town centre would look like again - but one of Britain's most well-known and much-loved comedians has fond memories of the area.
Bernie Clifton is an 84-year-old who describes himself as a 'failed plumber from St Helens', but his comedy and singing has seen him travel the world entertaining thousands - and it all started in South Yorkshire.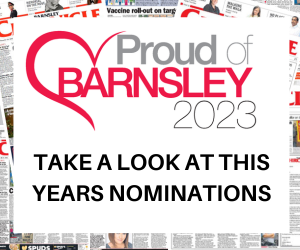 Bernie moved to the outskirts of Doncaster when he was just 21 to become a mechanic at RAF Lindholme, and feels that leaving St Helens to come to Yorkshire 'changed his life'.
"When I moved it really upset my parents and because I never moved back my mum accused me of 'going to the devil'," Bernie told the Chronicle.
"I often think that it's a strange twist of fate that I ended up here.
"Of all the places that I could have been posted with the RAF I was sent to the clubland capital and it really did change my life - I'm still based here now.
"South Yorkshire was at the forefront of the club scene - it was the bedrock."
Bernie plyed his trade as a boy singer when he first arrived in the area, and says that he owes a lot of his career to Pogmoor man Terry Herrington.
Terry, who died last month aged 85, first met Bernie at Greasbrough Social Club - then known as the 'Palladium of the North' - in 1968.
"I met Terry in 1968 at Greasbrough as I auditioned for clubland act of the year and it was the start of a great friendship," Bernie added.
"I toured with Terry and it's been a great journey with him he was such a lovely man and very gentle.
"It's impossible to overplay the importance he had on the club scene and how much of a major part he played in my own career, he had such an effect on people's careers.
"He did some arrangements for me and from then on every bit of music that I produced Terry was the go-to man."
Bernie reminisced of his first ever gig in Barnsley, at Grimethorpe Working Men's Club, and described it as a 'baptism of fire'.
"It was a Sunday lunch time and I was just a boy singer - maybe 21 or 22 - and I arrived early so I went into the local pub for a pint of bitter," he said.
"In an attempt to make friends I spoke to the landlord about the paper and asked if I could read it - about 20 minutes later he passed me the paper and asked me for a tuppence.
"I couldn't tell whether or not he was joking but I gave him the money and it was my first experience of Barnsley hospitality - it was certainly a baptism of fire.
"I came to Barnsley all the time because it was like a magnet for club acts and it was just a hop and a skip away from where I was.
"The Barnsley people were really receptive but you had to earn your corn because you had audiences who were spending their own hard-earned money.
"When I did the Last Laugh In Vegas tour I managed to get a standing ovation - that's something you would have never got in Barnsley."
Bernie admits that he can't ever see a clubland resurgence again because of the introduction of new media - but Barnsley was still one of the Meccas of clubland.
"It'll never be the same again because of what has happened to the world in regards to TV, internet and films," Bernie added.
"Terry and I both agreed that were were so grateful that were able to be around when show business was booming like it was."