THE 50th anniversary of Barnsley's official twinning with Schwabisch Gmund in Germany was marked last week.
Both towns were officially twinned by a partnership in June 1971, but exchange visits between students, parties and civic dignitaries started well before then.
Mayor of Barnsley Coun Caroline Makinson, council leader Sir Steve Houghton and Coun Steve Green were joined by members of the Barnsley Schwabisch Gmund Twinning Society to welcome 'Sigmund' - a unicorn sculpture - at the gardens on Churchfield in the town centre.
This tribute to the anniversary forms part of the 'Fantastical Beasts' event being held in Barnsley from tomorrow until mid-June.
Coun Makinson said: "It's wonderful to be part of these special celebrations to commemorate the coming together of Barnsley with Schwabisch Gmund all those years ago.
"Our partnership is clearly very special and I have no doubt that it will continue for another 50 years and beyond.
"It's a real shame we are unable to give the anniversary the celebration it deserves this year, but we will definitely make up for it next year.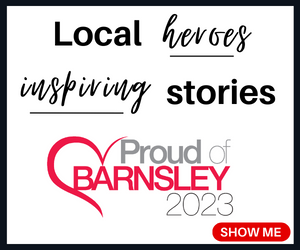 "The history behind the twinning is lovely and we even have a direct link to where it all began in our present council as our very own Coun Green is related by marriage to Arthur Williams, who started this amazing partnership."